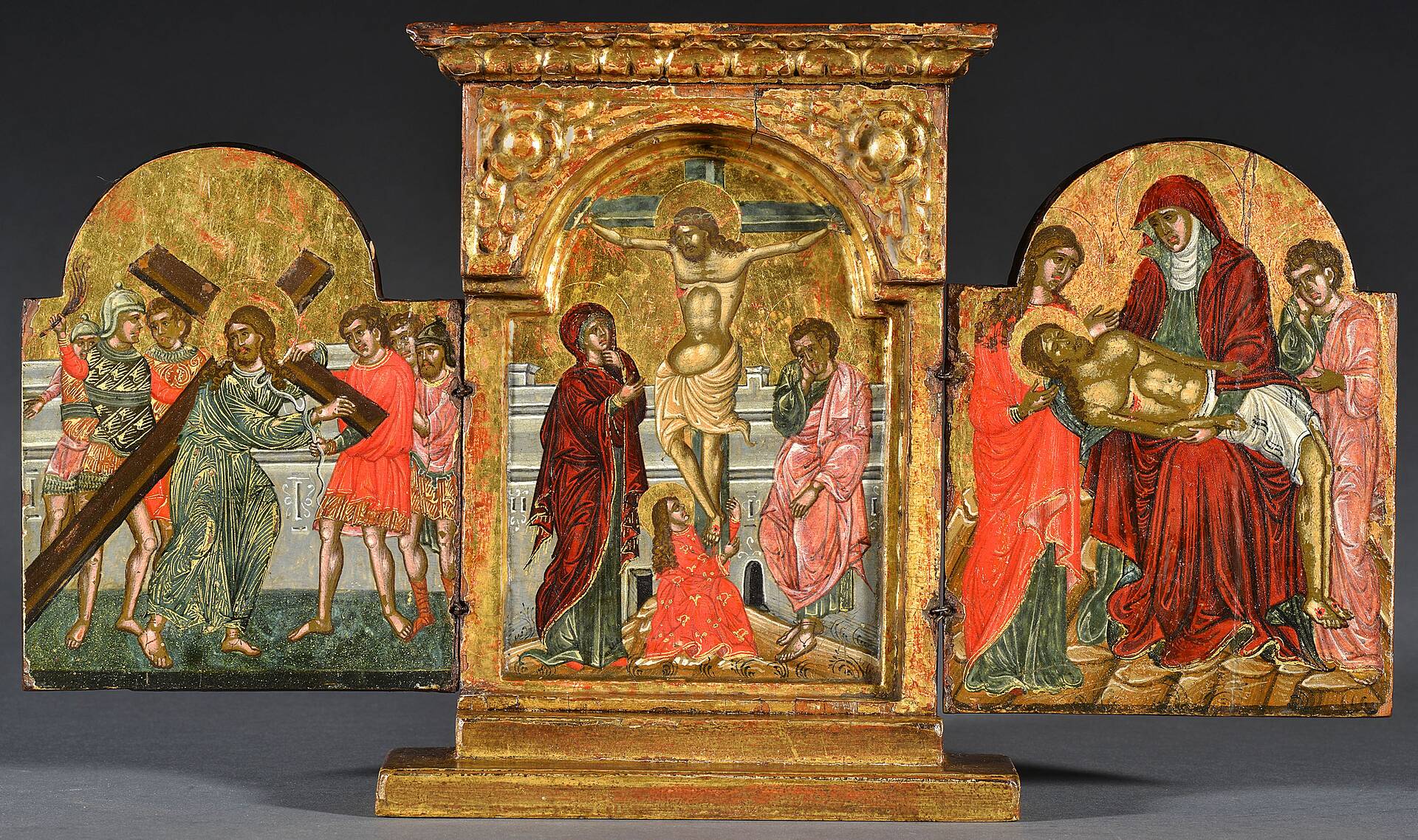 Icon: Triptych with the Crucifixion, the Resurrection and Scenes from the Passion of Christ
K-12
Veneto-Cretan, late 16th century
Tempera on panel, open: 18.3 x 33 cm / closed: 18.3 x 15 cm


Provenance:
Private collection, France
Morsink Icon Gallery, Amsterdam

ALR Ref. No: S00202674


Bibliography:
Unpublished
Inquire for price
Betrayal of Christ
16th century, 16.5 x 20.5 cm
University of Toronto Art Museum (Malcove Collection), Canada
Annunciation
16th century, 14 x 11.5 cm
Pinacoteca Nazionale Ravenna, Italy
This interesting and well-preserved triptych depicts scenes from the Passion of Christ until his Resurrection. When opened, the Crucifixion is depicted on the central panel. Christ's blood is dripping from his hands, feet and the wound at his side. He is flanked by the mourning Mother of God and St John the Evangelist. Mary Magdalene, dressed in a bright red robe decorated with gold, is kneeling at the foot of the cross and is looking up at the Saviour. In the background, the city walls of Jerusalem are depicted.

The scenes preceding the Crucifixion are shown on the left wing. When closed, the panel depicts the Flagellation of Christ. In the middle of the scene, Christ is tied to a pillar, while two Roman soldiers flog and taunt Him. In the background, the city walls of Jerusalem are visible. The inside of the left wing shows Christ carrying the cross outside of the city of Jerusalem. He stands in the middle of the scene, his neck and arms bound by ropes, and is surrounded by a crowd of Roman soldiers holding whips. A man dressed in a short red tunic is holding a rope. In all probability he represents Simon of Cyrene who is helping Christ carrying the cross.

The two sides of the right wing show scenes following the Crucifixion. When opened, the wing shows the Mother of God seated on a rock, against a gold background, holding the lifeless body of her Son. With her right hand she supports her Son's head while she is looking at Him in grief. The painter has used cold, dead tones for the body of Christ, with the exception of bright red for the blood in the wounds in his side, hands and feet, whereas he has used a warmer pink in modelling the Virgin's face. To the left and to the right are Mary Magdalene and St John the Evangelist, both mourning the dead Christ. On the outside of the right wing, the Resurrection of Christ is represented in a mountainous landscape. Christ is rising from the grave, holding a large white banner (colour of his victory). Roman soldiers are lying asleep. When completely closed, the triptych shows this triumphant scene.

Red, ochre, greyish-blue, rosa and green tones dominate the colour palette. The style of painting of the triptych, an interesting mixture of the Byzantine and the Western style, can be compared to a small panel with the scene of the Betrayal of Christ in the Malcove Collection (ill. 1), a small panel with the Annunciation in the Pinacoteca Nazionale in Ravenna (ill.2), and several panels in the collection of the Museo Nazionale in Ravenna. The triptych, which is an interesting witness of a crossroads of cultures, can be dated to the late 16th century.