Greek icon | Virgin and Child with Saint John the Baptist and Four Female Saints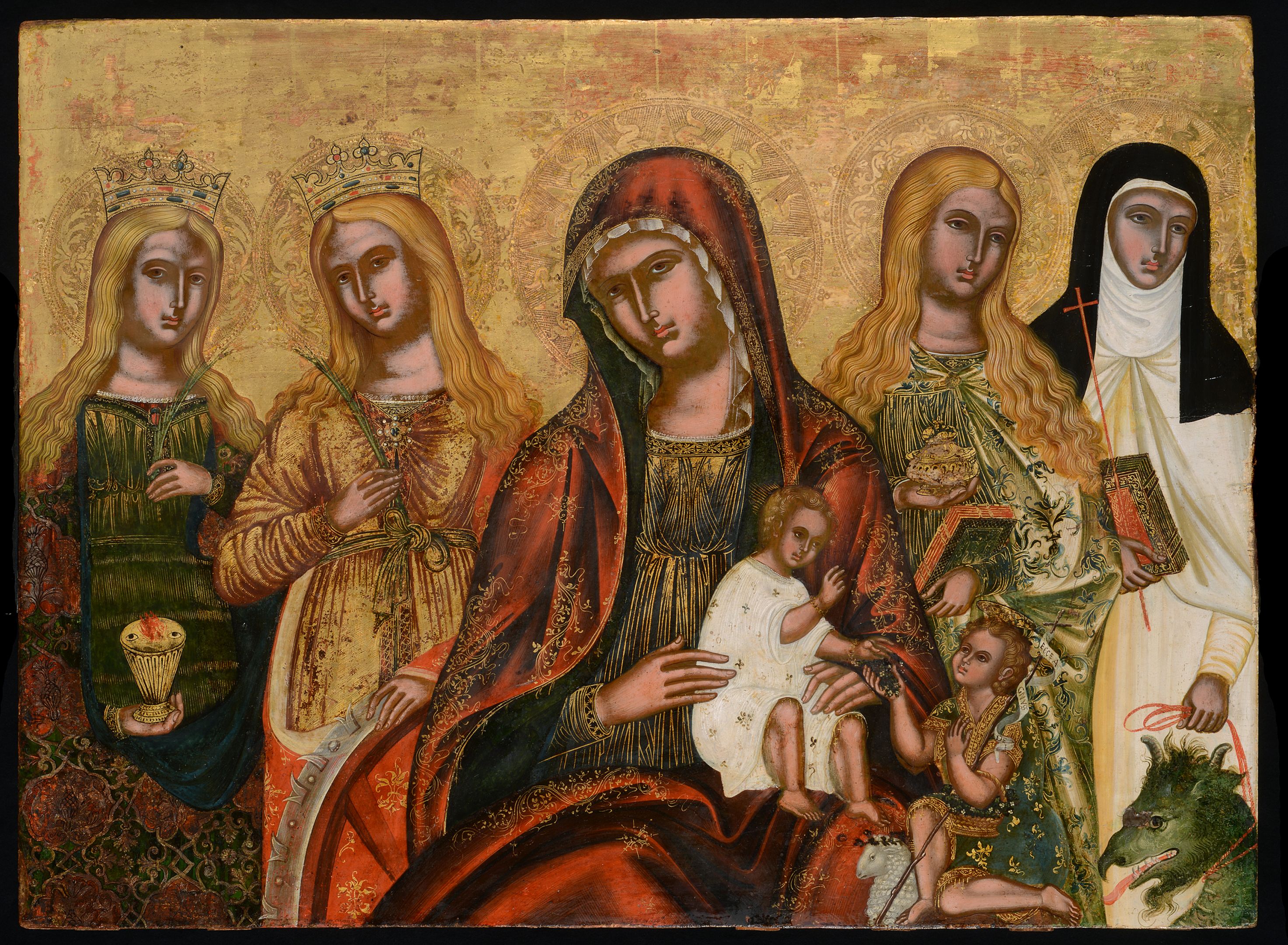 Icon: Virgin and Child with Saint John the Baptist and Four Female Saints
C-3
Veneto-Cretan, first half 16th century
Tempera on panel, 50.5 x 69 cm


Provenance:
Private Collection, Austria

ALR Ref. No: S00128092
This horizontal panel with five knee-length female figures resemble the Venetian Sacra Conversazione type in which symmetrically arranged saints in a unified space flank the central individual.(1) In our panel, the four female Saints Lucy, Catherine of Alexandria, Mary Magdalene and Catherine of Siena flank the seated Madonna in the centre of the composition. All female figures are depicted with two types of punched haloes. The ones of Saints Lucy, Catherine of Alexandria and Mary Magdalene have a classical and vegetative motive, whereas the ones of the Virgin and Saint Catherine of Siena contain alternating conical and meandering motives. All halo designs have intricate punched backgrounds and the outer dotted registers are finished with three decorative clustered dots suggesting small rays.
The Virgin is dressed in a dark green tunic with chrysography and a mantle with gold embroidery. She holds the Christ Child seated on her lap, while He is blessing Saint John the Baptist. The latter, depicted as a child with halo, hands flowers from the basket dangling on his left arm to Christ. The Baptist is dressed in a Western styled tunic. A scroll draped around the cross-shaped twig resting on his shoulder reads ECCE AGNUS DEI (Behold the Lamb of God). Behind the kneeling Baptist, the depiction of a small lamb's head framed by a halo and crowned with a wreath visualizes the Latin banderole that refers to Christ as the lamb that took the sins of Mankind.(2)
Behind the figures of Christ and the Virgin, flanking the latter's right side, are Saints Lucy and Catherine of Alexandria, both wearing a crown. Saint Lucy carries a chalice with fire and two eyes that refer to the etymological origins of her name from the Latin word lux, meaning light.(3) Lucy removed her own eyes in order to discourage a pagan suitor who admired her beauty. Catherine's spiked wheel alludes to her martyrdom on the wheel.(4) Additionally, both saints carry a martyr's palm. Flanking the other side of the Virgin are Saints Mary Magdalene and Catherine of Siena. Each one holds a book in one hand and their attributes in another. Mary has an ointment jar with which she washed the Saviour's feet and that she carried with her to Christ's tomb. Catherine of Siena keeps a dragon on a leash. She wears a white habit with a black veil characteristic for the Dominican Order. Traditionally, Catherine of Siena carries a lily, a book and a crucifix.(5) The latter two also appear in our Veneto-Cretan panel. In several artworks mainly created between circa 1460-1568, artists represented Catherine in triumph over the Devil.(6) In the Triptych of Saint Vincent Ferrer (ca. 1455, originally in Santa Maria Novella, Florence), Catherine, on the left side of the altarpiece, triumphs over the devil in the shape of a dragon, while holding a book and a lily in her hands.(7) An earlier figuration painted around 1365 can be found as part of Giovanni da Milano's now dismembered Ognissanti Polyptych in which Catherine of Siena keeps a dragon on a leash, similarly to our panel.(8) This probably refers to Catherine's exorcisms and to the many torments by demons as described by her contemporary biographer Raymond of Capua.(9)
The Renaissance garments of the female figures in our panel, as well as the inclusion of a Dominican, hence Catholic saint and the compositional type of a Sacra Conversazione identify the worshipper of this Veneto-Cretan painting as a Westerner. The exclusive depiction of female saints flanking the Virgin would stimulate a female viewer's identification with the exemplary lives of the saints. This would suggest a western, catholic, female commissioner for our Veneto-Cretan panel.
Lara Fernández Piqueras
1 Oskar Bätschmann, Giovanni Bellini, London 2008, pp. 144.
2 John 1:29; In some icons, John carries a long staff with a depiction of an Agnus Dei that finds its origins in Western art (Maria Vassilaki, The Painter Angelos and Icon-Painting in Venetian Crete, Farnham and Burlington 2009, pp. 248; The Baptist with an Agnus Dei can be found in Vassilaki, The Painter Angelos, 241, fig. 11.11).
3 Louis Réau, Iconographie de L'Art Chrétien, vol. III, no. 2, Paris 1959, pp. 53.
4 Idem, vol. III, no. 1, pp. 263.
5 See for example Catherine of Siena from the frontispiece of Epistole devotissime de Sancta Catharina da Siena executed in Venice, around 1500 (Peter Humfrey, "Fra Bartolommeo, Venice and St Catherine of Siena," in: The Burlington Magazine 132, no. 1048 (1990): pp. 483, fig. 31).
6 Diega Giunta, "L'Immagine di S. Caterina da Siena dagli Ultimi Decenni del Trecento ai Nostri Giorni," in: Iconografie di Santa Caterina da Siena: L'Immagine, vol. 1, eds., Lidia Bianchi and Diega Giunta, Rome 1988, pp. 97-98.
7 Giovanni Giura, "La Seconda Età della Pittura in Santa Maria Novella," in: Santa Maria Novella: La Basilica e Il Convento, vol. 2, ed. Andrea de Marchi, Florence 2016, pp. 140; Another, similar Italian example can be found in the Pinacoteca of Rieti, ascribed to Marcantonio Aquili, in which a full-figured Saint Catherine triumphs over the devil, again represented as a dragon (Lidia Bianchi and Diega Giunta, eds, Iconografia di S. Caterina da Siena, Rome 1988, pp. 382, cat. no. 357).
8 Miklós Boskovits, Giovanni da Milano, Florence 1966, pp. 39, fig. 76.
9 Daniela Pagliai, "Ignoto Fiorentino," in: Iconografie di Santa Caterina da Siena: L'Immagine, vol. 1, eds. Lidia Bianchi and Diega Giunta, pp. 305, cat. 228; Raymond of Capua described two episodes in which Satan tried to set the Saint on fire in order to extract her from ecstasy. In chapter IX, Raymond recounts how Catherine stated that evil spirits tormented her daily (Raymond of Capua, The Life of St Catherine of Siena, transl. George Lamb, London 1960, pp. 114, 243).