Greek icon | Virgin and Child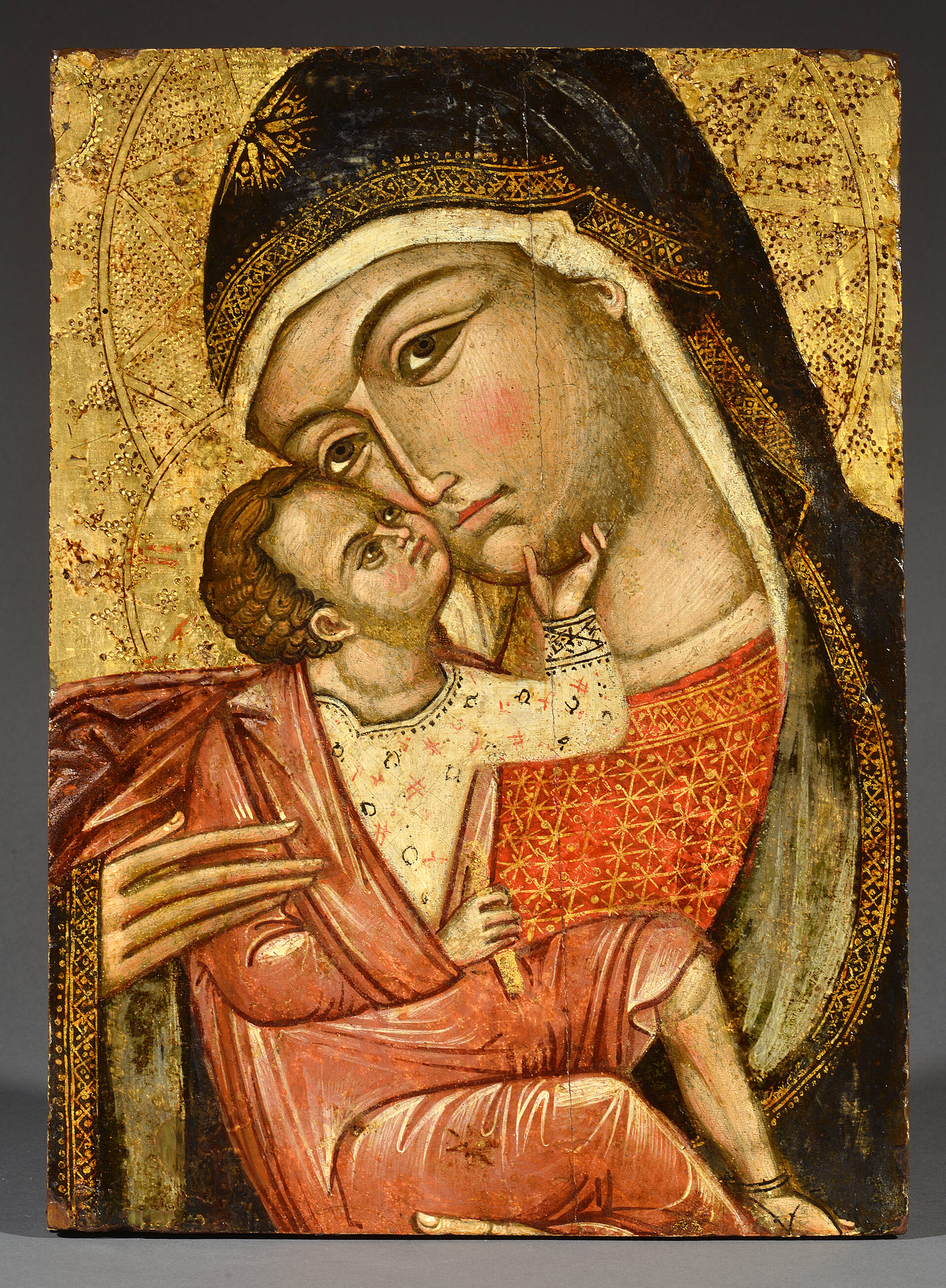 Icon: Virgin and Child
A-1
Byzantine or Byzantine-trained painter working in Venice, ca. 1350
Tempera on wood, 31.8 x 23 cm


Provenance:
Private collection, Spain, since 1970's
Morsink Icon Gallery, Amsterdam, The Netherlands
ALR Ref. No.: S00150702



Bibliography:
Unpublished
Inquire for price
Prof. Dr. Michele Bacci
The wooden panel has been reduced in size at some point, perhaps to make it fit for a new frame. On that occasion, the top of Mary's head, halo, left hand, the Child's feet, and mantle were cut away. The Virgin and Christ are shown according to a scheme that, by representing mother and son cheek-to-cheek, aims to point out their close, physical, and spiritual relationship while emphasizing both figure's distinctive dimensions and attitudes.

Mary's head is large, strongly inclined, with eyes diverting their sight from Jesus to look towards the beholder, who, in turn, is invited to focus his attention on the Mother of God. Her expression is slightly melancholic, suggesting the viewer's need to repent when praying and meditating in front of this image. Her garments are particularly precious and create a visual contrast to the Child's much less attractive attire: her blue maphorion, or long mantle, has golden borders embroidered with pseudo-Kufic motifs and is open on the chest, in such a way as to make visible its green lapel and the underlying red tunic, ornamented with star-like motifs. Below the mantle, her head is also covered with a white veil that falls to the shoulders without covering her left ear.

She holds the Child with two hands, one below his right leg and the other laying on his right arm. Christ wears a white tunic, decorated with dotted bands on the borders and an alternation of black roundels and red motifs that resemble number signs or hashes on the other parts. Superimposed is a red mantle (himation) that envelops his right arm and lower body and ends in a wide hem fluttering from his shoulders. Despite its ostentatious length, the textile does not manage to cover Jesus's left leg, and viewers are thus enabled to have a glance at his naked flesh and his foot wearing sandals. To the left, his body stands out because of its dignified composure, with upright back and right hand holding a closed scroll. On the contrary, the part on the beholder's right stands out for its animated pose. With its raised knee and hand caressingly touching the Virgin's chin. The Child's face is attributed by an intense look, with eyes looking towards Mary, a very wide forehead, and a brownish curly hair.

The work is striking in its free blending of iconographic and stylistic elements stemming from both Byzantine and Italian painting. The dimensional contrast of mother and son, the chromatic palette, the V-shaped and triangular folds marked through white highlights in Christ's mantle, the latter's elongated head, the ornaments on his white tunic, Mary's long and thin fingers, the linearly-rendered outlines of both figures' physiognomic features, and last but not least, the modeling technique consisting of thin, concentric ochre, rose, and white brushstrokes on a greenish preparation (or proplasmos) point to the authorship of a painter being well acquainted with the artistic practice of Greek icon painters. The iconographic scheme is a variant of the Virgin of Tenderness or Glykophilousa-type that became especially widespread around the mid-14th century and is itself known in two slightly different versions. Both show Christ either sitting on Mary's right or left arm and touching her chin, his animated posture is sometimes further emphasized by showing the other arm falling downwards: such is the solution found in both Greece (e.g. the Eleousa icon in Philotheou Monastery, Mount Athos, ill. 1) and Russia (e.g. the Umileniye icon in the Moscow Kremlin) since the 1350s. The more composed attitude seen in the present image is best paralleled in a cluster of late 14th to early 15th-century Russian icons which, like the Umileniye, possibly from Novgorod, in the Tretyakov Gallery in Moscow, were inspired by Greek models.1
On the other hand, Mary's red tunic, the golden ornaments, her white veil that substitutes the usual wimple, her Gothicizing blue mantle opened on the chest, the pseudo-Kufic, golden borders, and the dotted and incised decoration of the haloes are all elements borrowed from the visual repertory of Trecento painting in Venice, and especially of Paolo Veneziano and his workshop. Such works have been known in scholarship as belonging to a not better defined "Italo-Byzantine" or "Adriatic" school. Nevertheless, the numerous works clustered around this label include panels that share the same schemes of Marian iconography, although they were made in different moments by different hands. Some of the later works show a more confident knowledge of Palaiologan pictorial practice and could, therefore, imply the authorship of Byzantine masters. Nevertheless, good knowledge of Venetian arts indicates that they were made either in Venice or in its stato da mar, possibly in a workshop including both Greek and Italian artists. The Glykophilousa-type with the Son caressing his Mother's chin is found in another thirteen panels of mixed stylistic character. Some of which were made by Greek masters in ca. 1340-1360 and were later imitated in Italy by painters working in a rather linear and cursive manner. This group includes an icon in the Benaki Museum in Athens, where the association with Venice is made even more evident by its decorated frame.2
The Amsterdam panel is probably to be considered as the work of an artist trained in Byzantine painting and mastering the Palaiologan modelling technique. His selective use of Venetian formulas provided Mary with a distinctive attire, emphasizing Mary's role as the Queen of Heavens and the privileged spiritual intercessor of humanity. Such a choice was not intended to exclusively suit the visual habits of Catholic believers, given that similar solutions found their way into the Eastern Mediterranean, and from there, were transmitted to Orthodox Russia.
1.Nikodim P. Kondakov, Ikonografiya Bogomateri. Svjazi grecheskoy i russkoy ikonopisi s italyankoyu zhivopisyu rannego Vozrozhdeniya, Saint Petersburg 1911, 150-153; L. I. Lifshitz, entry n. 23, in V. A. Rodionov, ed., Gosudarstvennaya Tretyakovskaya Galereya.. Katalog sobraniiya. Tom I: Drevnerusskoe iskusstvo X-nachala XV veka, Moscow 1995, 83-84; Efthymios N. Tsigaridas, Εικόνες του βυζαντινού μουσείου και ναών της Καστοριάς (12ος-16ος αιώνας), Athens 2018, 359-360.
2.Michele Bacci, "Veneto-Byzantine 'Hybrids': Towards a Reassessment", Studies in Iconography 35 (2014), 73-106. I am preparing new publications on the issue of the so-called "Adriatic" school.