Russian icon | Two Panels with Vita of St John the Forerunner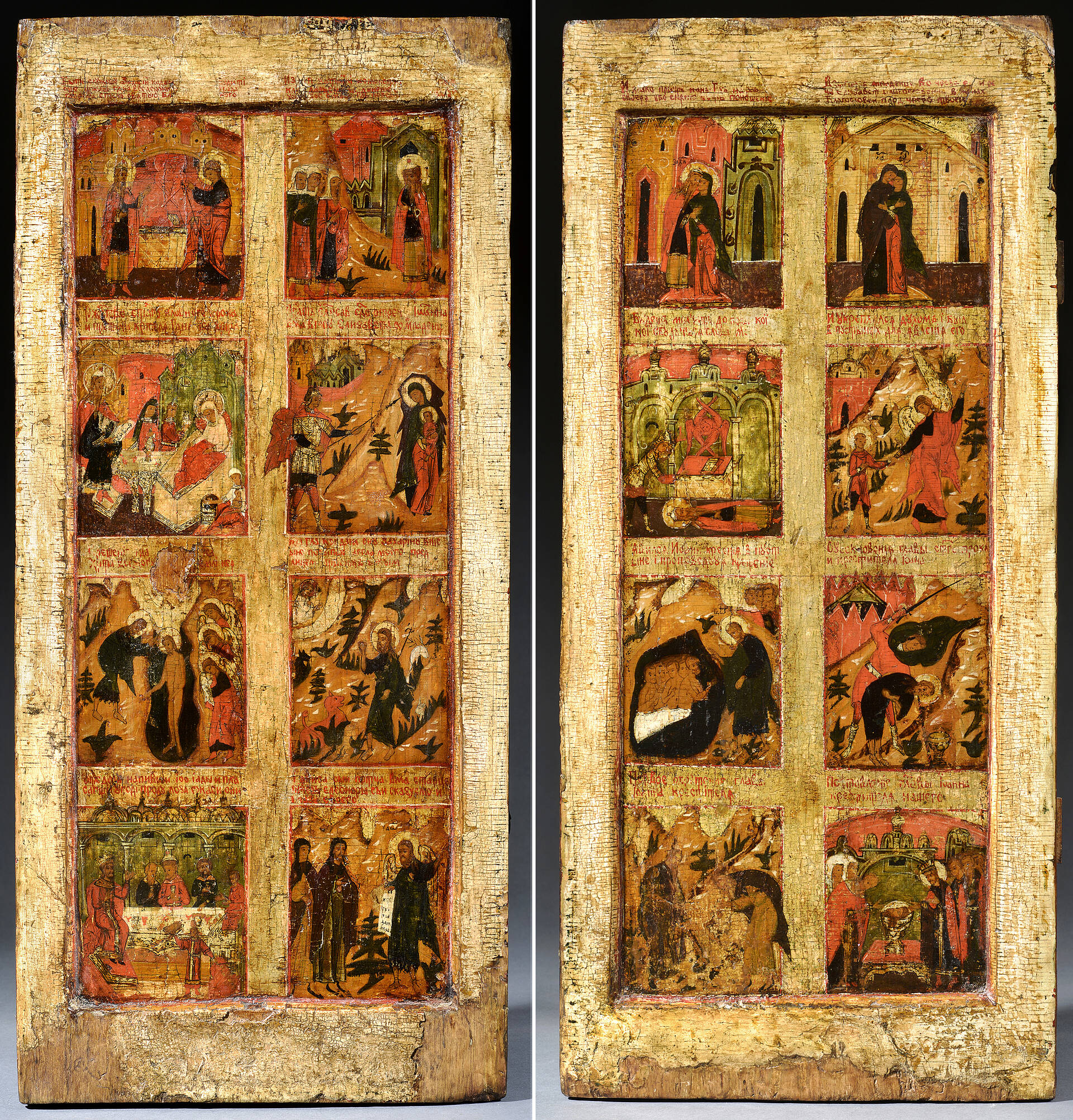 Icon: Two Panels with Vita of St John the Forerunner
E-11
Central Russia, second half 17th century
Tempera on panel, 49.5 x 22.7 cm (each panel)


Provenance:
De Wijenburgh, The Netherlands,1970s
Private collection, The Netherlands
Private collection, Belgium
Morsink Icon Gallery, Amsterdam

ALR Ref. No.: 6365.4LP


Bibliography:
Unpublished
These two rare panels depict sixteen scenes from the life of St John the Forerunner, painted against a gold ground. St John the Forerunner is one of the most important saints in Orthodox Christianity. No less than six feast days are dedicated to him in the Russian Orthodox Church: his main feast day on 7 January, his conception on 23 September, his birth on 24 June, his beheading on 29 August, the first and second finding of his head on 24 February, and the third finding of his head on 25 May.

The sixteen scenes in total must be read from left to right and from top to bottom, over both panels. The scenes represent the following events:

1.
Announcement of the birth of St John to the high priest Zacharias by the Archangel Gabriel at the altar in the temple.
2.
Zacharias comes out of the temple and sees the people who have prayed at the temple. Because Zacharias is dumbfounded, he can't tell what happened inside the temple.
3.
The conception of St John at the moment of the intimate embrace of Elisabeth and Zacharias.
4.
The Visitation: the meeting and embrace of the Mother of God and her aunt Elisabeth.
5.
Birth of StJohn. To the left, Zacharias is writing down the name of his newborn son.
6.
Elisabeth is fleeing with her son from a soldier of King Herod, who wants to kill the newborn John. A mountain opens up to absorb and protect Elisabeth's son.
7.
The high priest Zacharias being murdered in the temple, because of his refusal to tell where his son is hiding.
8.
The Archangel Uriël leads the young John into the desert.
9.
St John baptizing Jesus Christ in the waters of the river Jordan. Three angels stand with inclined heads on the right bank. 10.
St John praying in the desert to God the Father, while being surrounded by wild animals.
11.
Baptism of the people by St John in the river Jordan.
12.
Beheading of St John; the prison visible to the left in the background.
13.
King Herod receives the decapitated head of St John during the banquet.
14.
St John, depicted as the 'Angel of the Desert' appears after his death to Eleonora, who is dressed as a nun, and to a monk.
15.
Two monks excavate St John's head, which turns out to be intact (first and second finding of the head of St John the Forerunner).
16.
Third finding and veneration of the head of St John.