Russian icon | St Paraskeve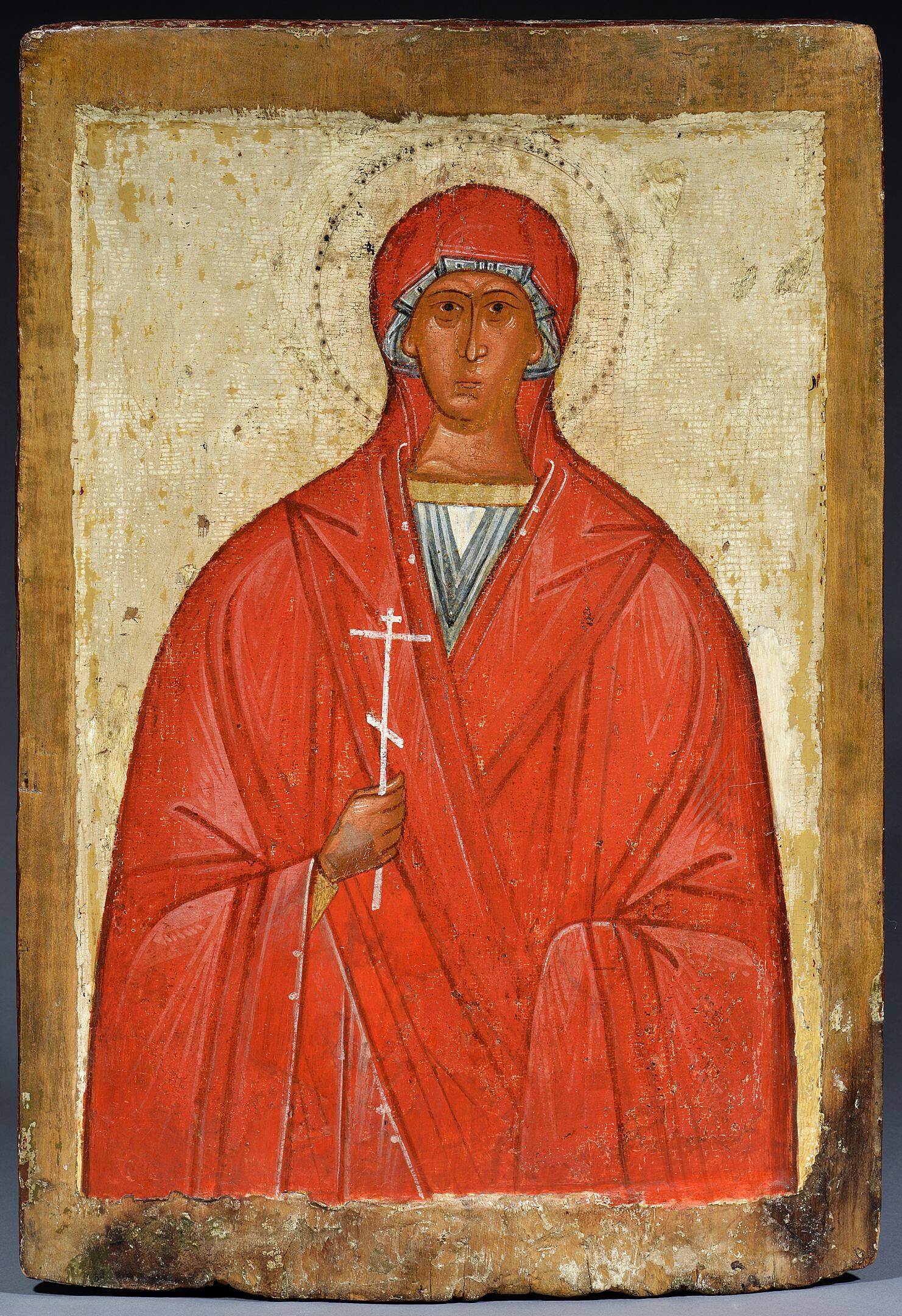 Icon: St Paraskeve
E-1
Russia, Novgorod, first half 15th century
Tempera on panel, 51.5 x 35 cm


Provenance:
Private Collection, Belgium, before 1978
Temple Gallery, London
Collection Bruce Chatwin, UK
Private Collection, UK

ALR Ref. No.: S00158650


Bibliography:
Edmond Voordeckers, Ikonen in Belgisch Particulier Bezit (exhib. cat.),
Ghent 1978, cat. no. 485; p. 171
Richard Temple, Icons: A Sacred Art, 30th Anniversary Exhibition Catalogue, London 1989, cat. no. 12; pp. 27, 55, 56
Edmond Voordeckers, Ikonen in Belgisch Particulier Bezit (exhib. cat.), Ghent 1978, cat. no. 485; p. 171
Richard Temple, Icons:
A Sacred Art, 30th Anniversary Exhibition Catalogue, London 1989, cat. no. 12; pp. 27, 55, 56
The icon is an impressive example of Novgorod icon painting from the 15th century, the period of its finest flowering. St Paraskeve is depicted half-length , facing the viewer. Her bright red mantle (maphorion) immediately catches the eye. Underneath her mantle, the saint is wearing a light blue tunic, highlighted with bold white brush strokes. In her right hand, Parakeve holds a long white martyr's cross, while her left hand is covered with a slip of her mantle. The effect is strikingly powerful and hypnotic.

The graphic modelling of the figure, the basic colour scheme combining bright cinaber red and light bue with ochre tones, the severe expression of the saint's face, the elongated body and small head, is typical for Novgorod icon painting at its high point. The icon can be compared with a 15th century Paraskeve-icon from Novgorod, now in the Tretyakov Gallery (first half 15th century, 85,5 x 66 cm, Inv. No. 17311), and another 15th century Paraskeva icon in the collection of Oldbelievers Cathedral in Moscow (second half 15th century, 65 x 50 cm).

Without doubt, St Paraskeve is the most revered female martyr in the Russian Orthodox Church. According to legend, Parakeve lived in the 2nd century and was born on a Friday. It is therefore that the saint was given the name Pyatnitsa (Russian for 'Friday'). The Orthodox Church commemorates St Parakeve each Friday, and since this day is associated with the Crucifixion of Christ, Parakeve was believed to personify Good Friday. The white cross in her hand symbolizes her martyrdom and her devotion to the Crucified Saviour. The colour red of her mantle symbolizes her martyrdom too and recalls Christ's sacrifice of his own blood.

In the merchant city of Novgorod, St Paraskeve was worshipped as a patron of trade, and Friday became the day of the most intense commercial activity. A church dedicated to St Parakeve was built in 1207 at the Novgorod market place. In addition she was considered a special patron saint of women. According to old custom, on feastdays of St Paraskeva only women were allowed to enter the church.