Russian icon | St John Chrysostom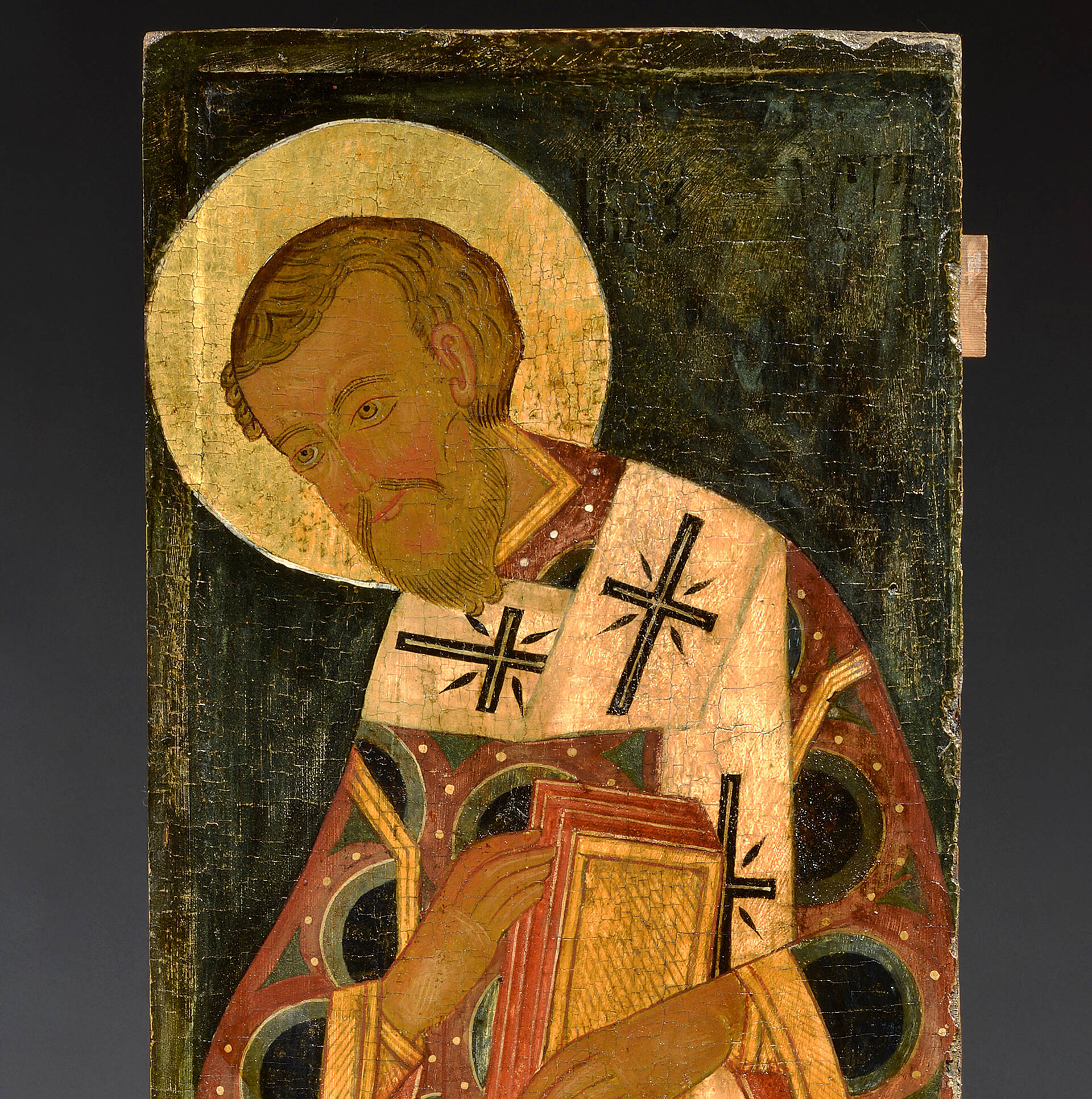 Icon: St John Chrysostom
E-7
Northern Russia, probably Karelia, early 17th century
Tempera on panel, 97,6 x 29 cm


Provenance:
Private Collection, Germany
Morsink Icon Gallery, Amsterdam

ALR Ref. No.: S00158670


Bibliography:
Unpublished
Inquire for price
The church hierarch St John Chrysostom (Greek: 'Golden Mouth'), was born around 357 in Antioch and died in 407 Asia Minor. The saint, an eloquent preacher and archbishop of Constantinople, is considered one of the most important theologians of the Christian Church. The liturgy celebrated in the Orthodox Church since the eighth and ninth centuries is attributed to him.

The icon represents St John Chrysostom against a dark blue ground, full-length and in three-quarter profile while turning to the left. The saint wears a tunic and a chasuble (mantle), the liturgical vestment worn by bishops of the Orthodox Church. A stole (omophorion) adorned with black crosses is draped over his shoulders. With both hands he holds a Gospel Book. The specific type of chasuble, decorated with a decorative pattern of crosses and circles, is also called a 'polystavrion', from the Greek word meaning 'many crosses'. The figure's short brown hair and round beard are a characteristic feature of St John Chrysostom.

The icon is painted in an archaic and expressive style, typical for 17th-century Russian icon painting from Karelia. The subdued colours against the dark blue background, the bold, linear style and the overall straithforward character of the painting, point to the Russian north, where the traditions of medieval Russian icon painting flourished until the 17 century. The icon is a fine example of icon painting from that area and period.

The icon once belonged to the Deësis tier in the iconostasis of a Russian Orthodox Church. The icon of St John Chrysostom is usually placed to the right of the central Christ figure in this tier. The relatively small size of the present icon suggests an origin from a small church, or from one of the side altars of a larger church.