Russian icon | St George Slaying the Dagon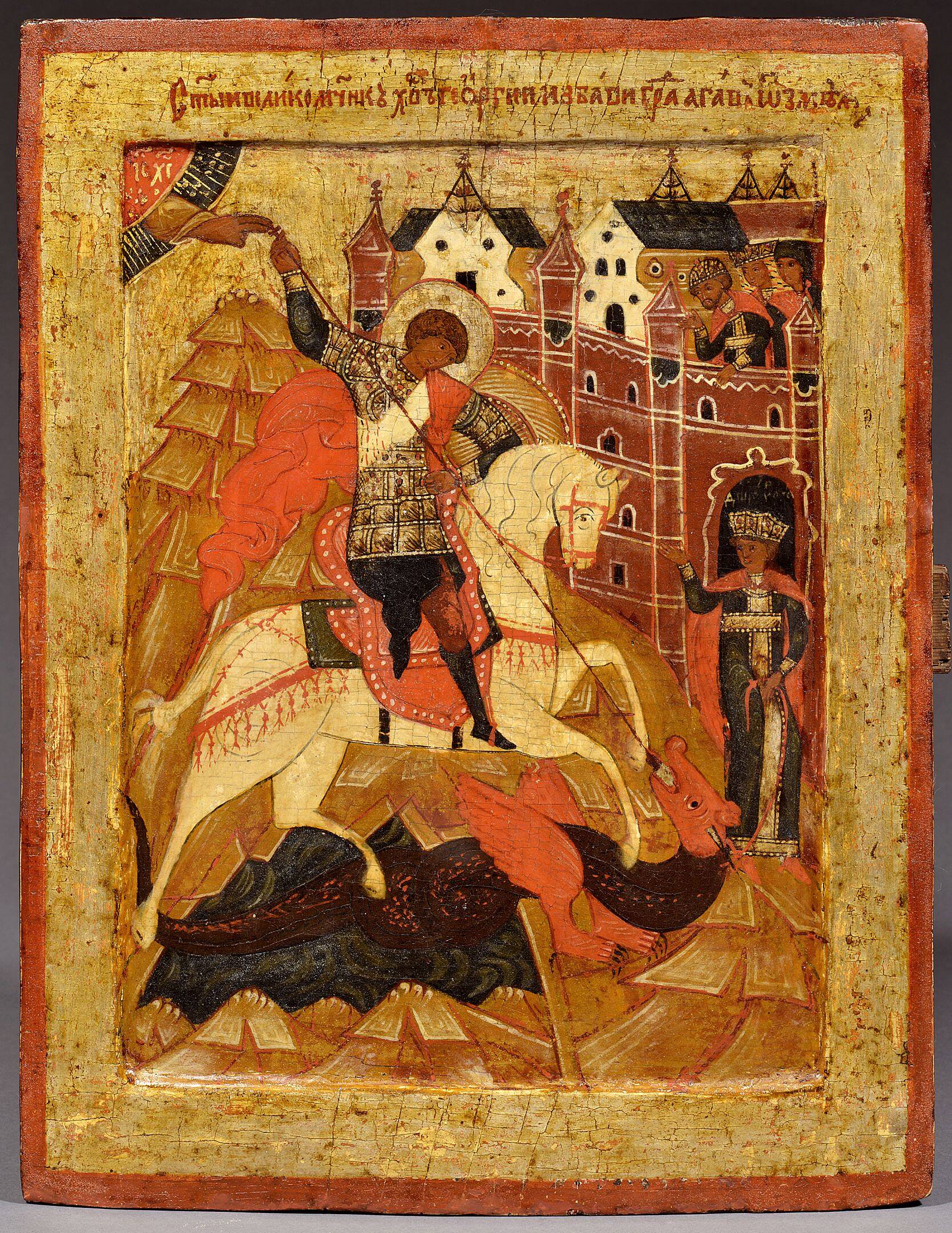 Icon: St George Slaying the Dagon
E-9
Northern Russia, probably Karelia, first half 17th century
Tempera on panel, 35.5 x 26.5 cm


Provenance:
Private Collection, France
Morsink Icon Gallery, Amsterdam

ALR Ref. No.: S00158681


Bibliography:
Unpublished
The image of St George Slaying the Dragon is a powerful symbol for the victory of good over evil. The icon depicts St George on a white horse galloping swiftly to the right in a rocky landscape. With his left hand he holds the reins of the horse and with his right hand he holds a spear which he thrusts through the mouth of the squirming winged dragon below. St George is dressed in full armour and wears a bright red mantle, which flutters behind, tied in a knot on the chest. To the right, the crowned princess stands in front of the gate of a fortified city. She is greeting St George with her right hand and is holding a red rope that is tied around the dragon's neck in her other hand. In the upper right corner, standing high on the fortified wall of the city are the king and the queen. In the upper left corner, the blessing hand of Christ appears in a blue and red segment of heaven, which is decorated with fine gold lines symbolizing rays of heavenly light.

The icon is painted in an expressive and dynamic northern style. The bright colour palette, the somewhat 'sketchy', linear style and the archaic character of the painting all point to Karelia in the the Russian North, where the traditions of medieval Russian icon painting flourished until the 17 century. The icon is a fine and very well preserved example of icon painting from this area and period.

St George, the legendary warrior-saint, is among the great soldier saints of the Orthodox Church. According to legend, he was born in Cappadocia in Asia Minor and died as a martyr under the Roman Emperor Diocletian in 303 AD. The saint vanquished the dragon and rescued the king's daughter who was going to be offered as a sacrifice, thus liberating the whole country of Libya from evil. The worship of St George was widespread in Russia, even in the pre-Mongol times. The victory won by St George for the Christian faith was closely associated in Russia with the struggle for national independence. The saint was considered the patron saint of Russian soldiers in their fight against the outside enemy.