Greek icon | St Catherine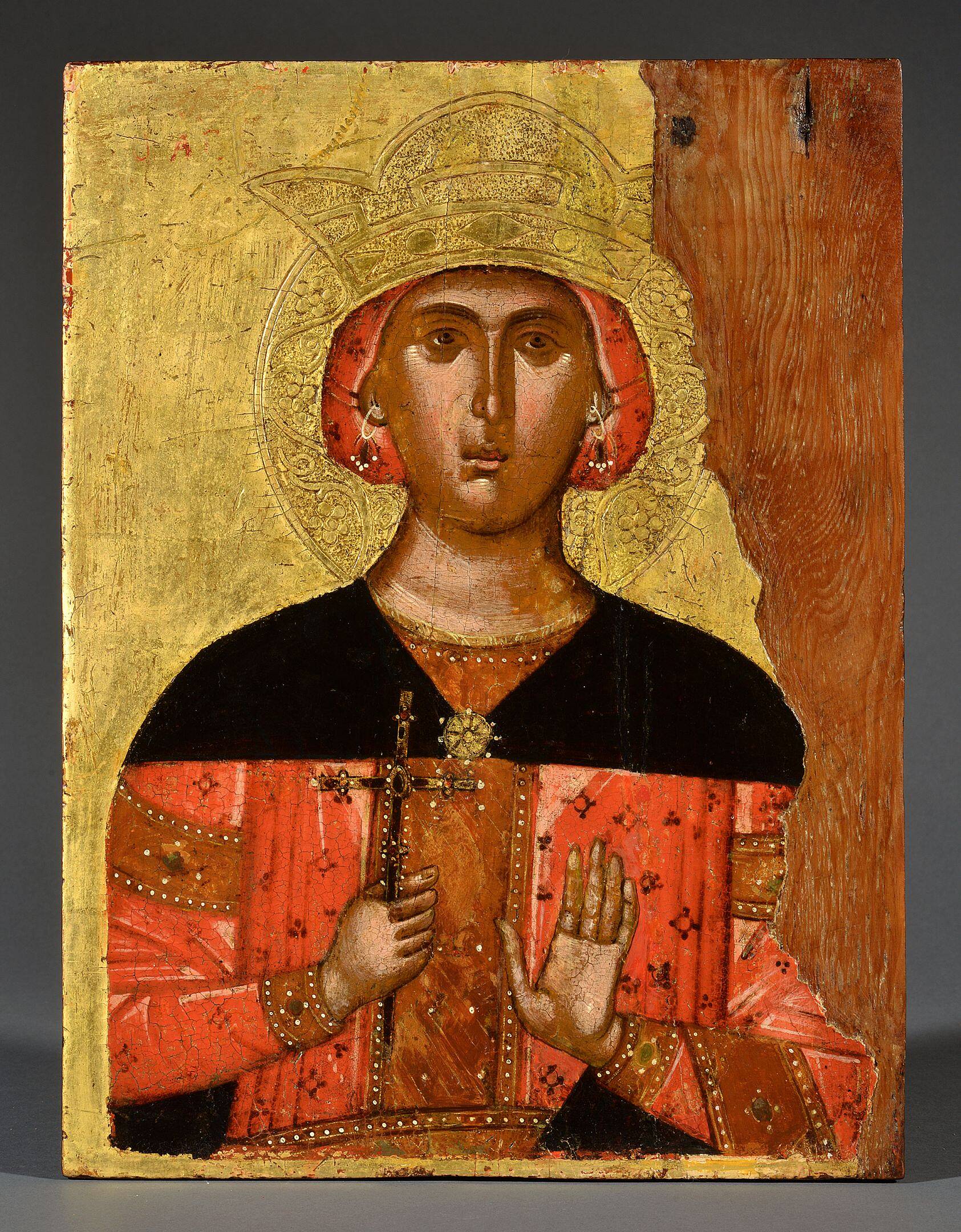 Icon: St Catherine
A-11
Greece, first half 17th century
Tempera on wood, 33 x 25 cm


Provenance:
Private Collection, UK
Morsink Icon Gallery, Amsterdam, The Netherlands
ALR Ref. No. S00150761



Bibliography:
Unpublished
Simon Morsink
During the Middle Ages, the cult of St Catherine was widespread in the Byzantine world as well as in Western Europe. Three accounts of her life are known in Greek, of which the most popular is by Symeon Metaphrastes. Her feast day is celebrated on 25 November (24 November in Russia).

Against a gold background, St Catherine is depicted following her iconographic model as a princess. Represented frontally and half-length, she faces the viewer. Dressed in imperial garments, she is wearing a bright red tunic, embroidered with circular motives, a hair-cover of the same colour, and a highly contrasting dark blue mantle which covers her shoulders and which is held together at her chest with a gold brooch set with pearls. Her nimb, decorated with floral motives, and her stylized crown are incised into the gold background. In her right hand, she firmly holds a bejewelled martyr cross while her left hand is raised in prayer, palm outwards. Her ears are adorned by delicate white earrings with hanging pearls. The saint's face is young and stern, resembling the portrait of a Byzantine empress. The right part of the icon is damaged, leaving the wood of the panel visible to the viewer.

Half-length icons of St Catherine are much less common than representations of St Catherine Enthroned. The iconography of St Catherine Enthroned was established only about 1600 and proved particularly popular with Cretan painters in the 17th century (Acheimastou-Potamianou 1998, pp. 252, 253; Piatnitsky 2001, p. 204; Haustein / Morsink 2017, pp. 84-88, cat. no. 12). The iconographic type of the saint presented half- or full-length, with the elaborate royal attire, is much older and dates back to Palaeologan models (Arell 2006, p. 51). The flat modelling of the saint on our icon, and the conservative, relatively simple style of painting, point towards a dating in the 17th century, presumably the first half, and it's origin being the Greek mainland.
Literature:

Arell 2006
Berndt Arell, Athos - Monastic Life of the Holy Mountain, Helsinki 2006
Acheimastou-Potamianou 1998
M. Acheimastou-Potamianou, Icons of the Byzantine Museum of Athens, Athens 1998
Piatnitsky 2001
Yuri Pyatnitsky et al., Sinai Byzantium Russia, Orthodox Art from the Sixth to the Twentieth Century, St Petersburg, London, 2001
Haustein / Morsink 2017
Eva Haustein Bartsch and Simon Morsink, Die Farben des Himmels. 15 kretische Ikonen aus einer europäischen Privatsammlung, Recklinghausen 2017