Russian icon | St Basil the Great and St Basil 'Fool for Christ'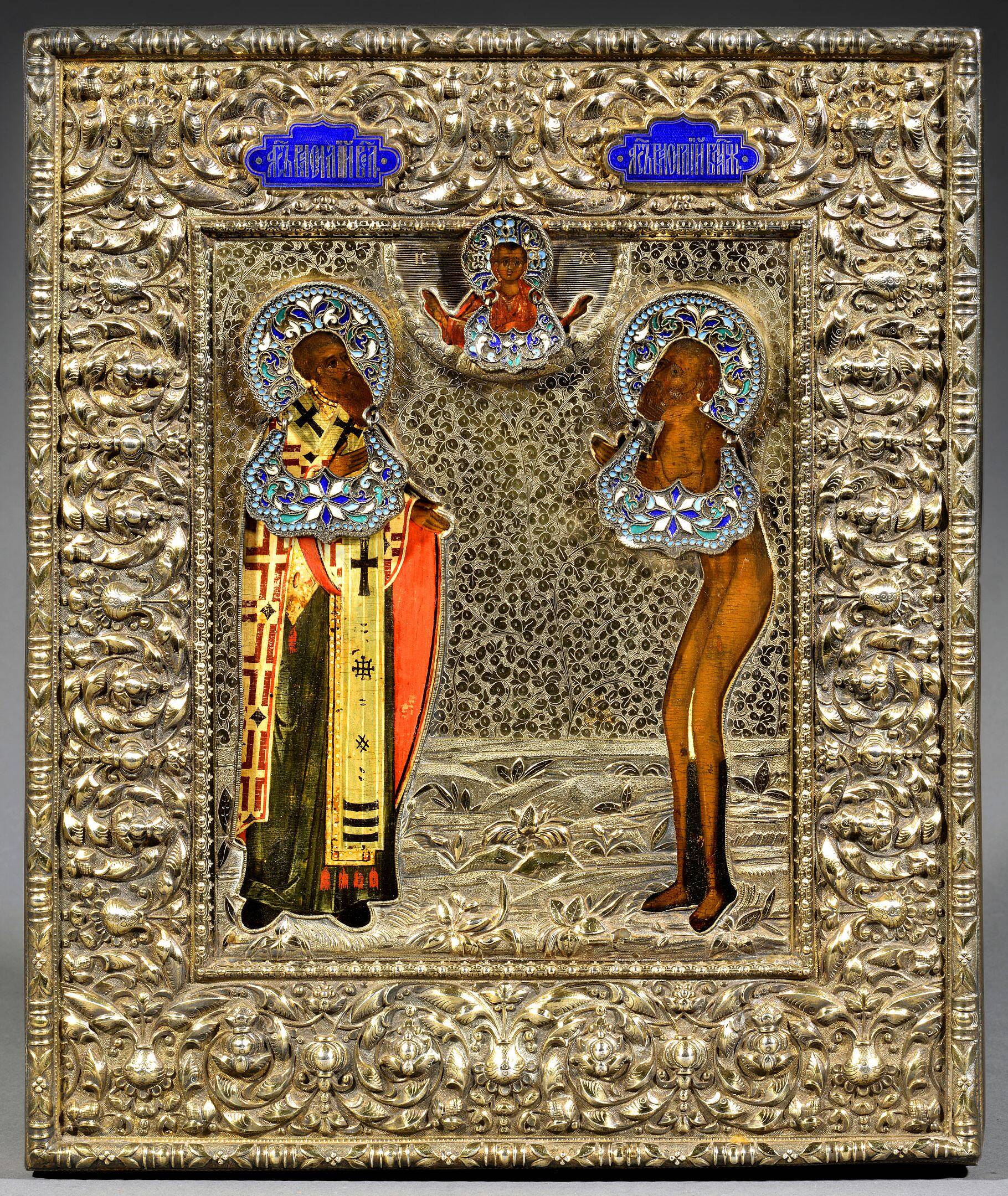 Icon: St Basil the Great and St Basil 'Fool for Christ'
K-5
Russia, second half 16th century
Tempera on panel, 31,7 x 26,3 cm
Enamel gilt silver oklad: Moscow, 84, B.C. (Viktor Savinkov),
dated 1876, master I.S.


Provenance:
Private collection, Germany
Private collection, The Netherlands

ALR Ref. No: S00202743


Bibliography:
Unpublished
Inquire for price
In this icon, the holy church hierarch St Basil the Great is depicted together with the 'Fool for Christ' St Basil the Blessed, Wonderworker of Moscow. Standing on a green ground, the two saints turn towards each other in three quarter profile and raise their hands in prayer. They are looking up towards Christ Emmanuel, who appears in a bright red segment of heaven in the upper part of the icon.

St Basil was bishop of Caesarea and a leading churchman in the 4th century. Together with St Gregory the Theologian and St John Chrysostom, he is considered one of the Three Holy Hierarchs. Dressed as a bishop, his cloak is decorated with a repeating pattern of crosses executed in black and brown against a white background. His stole is decorated with large black crosses.

St Basil 'Fool for Christ' is depicted completely naked. The textual basis for the holy fools is Corinthians 3:18: 'Let no man deceive himself. If any among you seems to be wise in this world, let him become a fool, that he may be wise'. Complete nakedness is an iconographic feature that sets St Basil apart from other holy fools, a nakedness likening him to Adam. St Basil was believed to be clairvoyant, able to heal and to predict the future. His reputation was such that even the notorious Tsar Ivan the Terrible feared him. After St Basil died in 1557, Tsar Ivan himself acted as pallbearer and carried his coffin. The main chapel of the Pokrovsky cathedral (better known as the cathedral of St Basil) on the Red Square in Moscow is dedicated to St. Basil. His remains were interred inside this chapel.

The silver gilt oklad is decorated with applied cloisonné halos and text bands. The border is chased with a scrolling foliate pattern on a stippled ground, the background is etched with an intricate leaf design.