Russian icon | Shestodnev (Six Days-icon)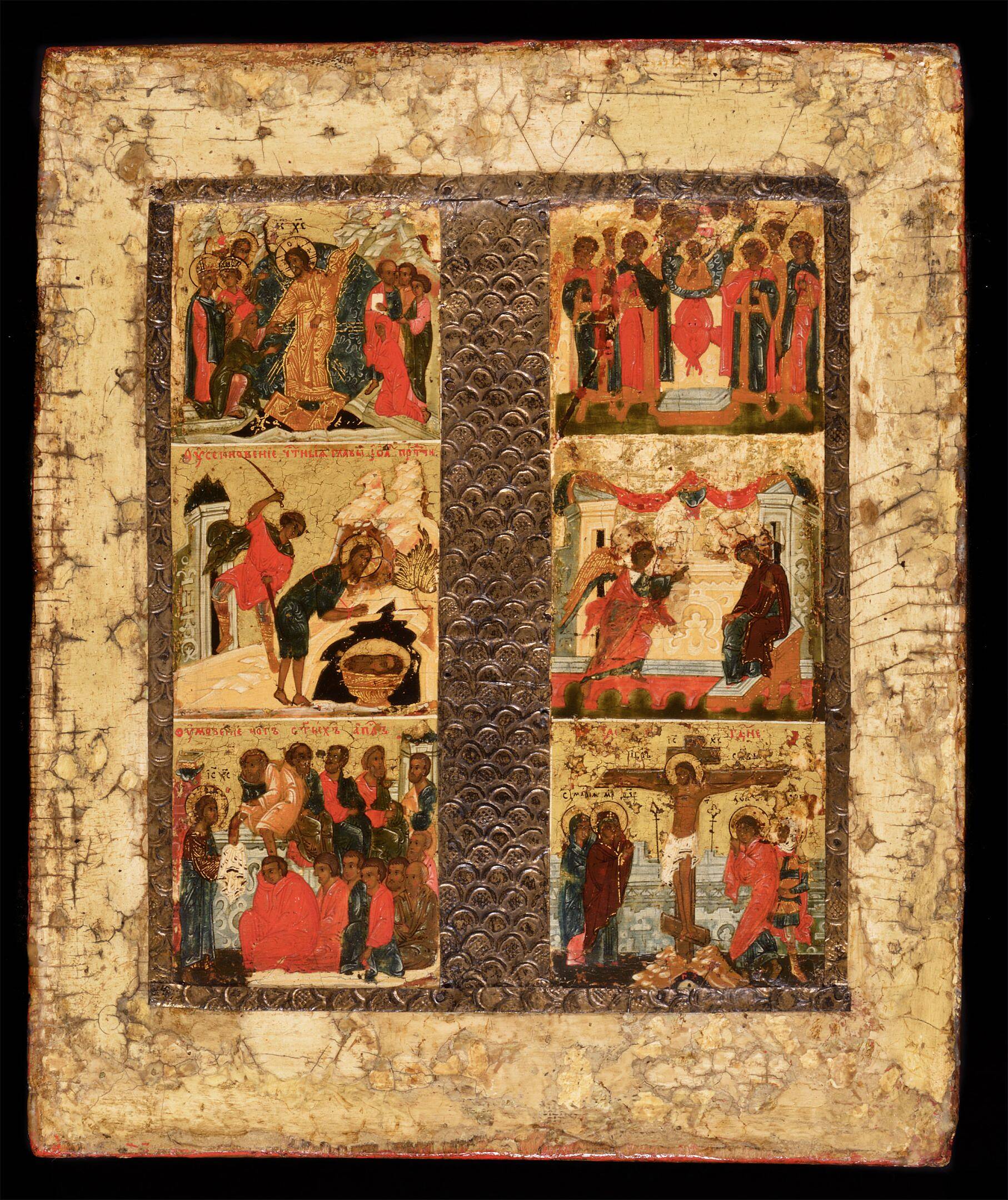 Icon: Shestodnev (Six Days-icon)
T-5
Russia, Moscow, mid-16th century
Tempera on wood, 28 x 23 cm
The iconography of the Six Days-icon was inspired by the Shestodnev of Kirill the Philosopher (1130-1182), a liturgical cycle of prayers for the week. Kirill the Philosopher is considered as one of the first and finest theologians of Kievan Rus'.
The scene of the Anastasis in the upper left corner symbolises the week as a whole, the Synaxis (Assembly) of the Archangels next to it refers to Monday, the Beheading of St John the Forerunner to Tuesday, the Annunciation to Wednesday, the Washing of the Apostle's Feet to Thursday and the Crucifixion to Friday and Saturday.
The icon, an interesting example of 16th century Russian miniature painting, is executed in a refined style with a rich and subtle colour palette, reminiscent of book illumination.
An important figure in the development of 16th century icon painting in Russia was Makary (1482- 1563), the metropolitan of Moscow. Makary learned to paint icons in his youth and continued to produce them throughout his life. As archbishop of Novgorod (1528-1542) he stimulated the art of icon painting with his spiritual energy and new ideas. Around the middle of the 16th century he founded the Kremlin workshop for icon painting in Moscow. The painters concentrated on illuminating books and painting small icons, with the emphasis lying increasingly on refinement and detailed finish. Thus a growing movement developed away from large scale art towards small minutely painted works.