Russian icon | Nativity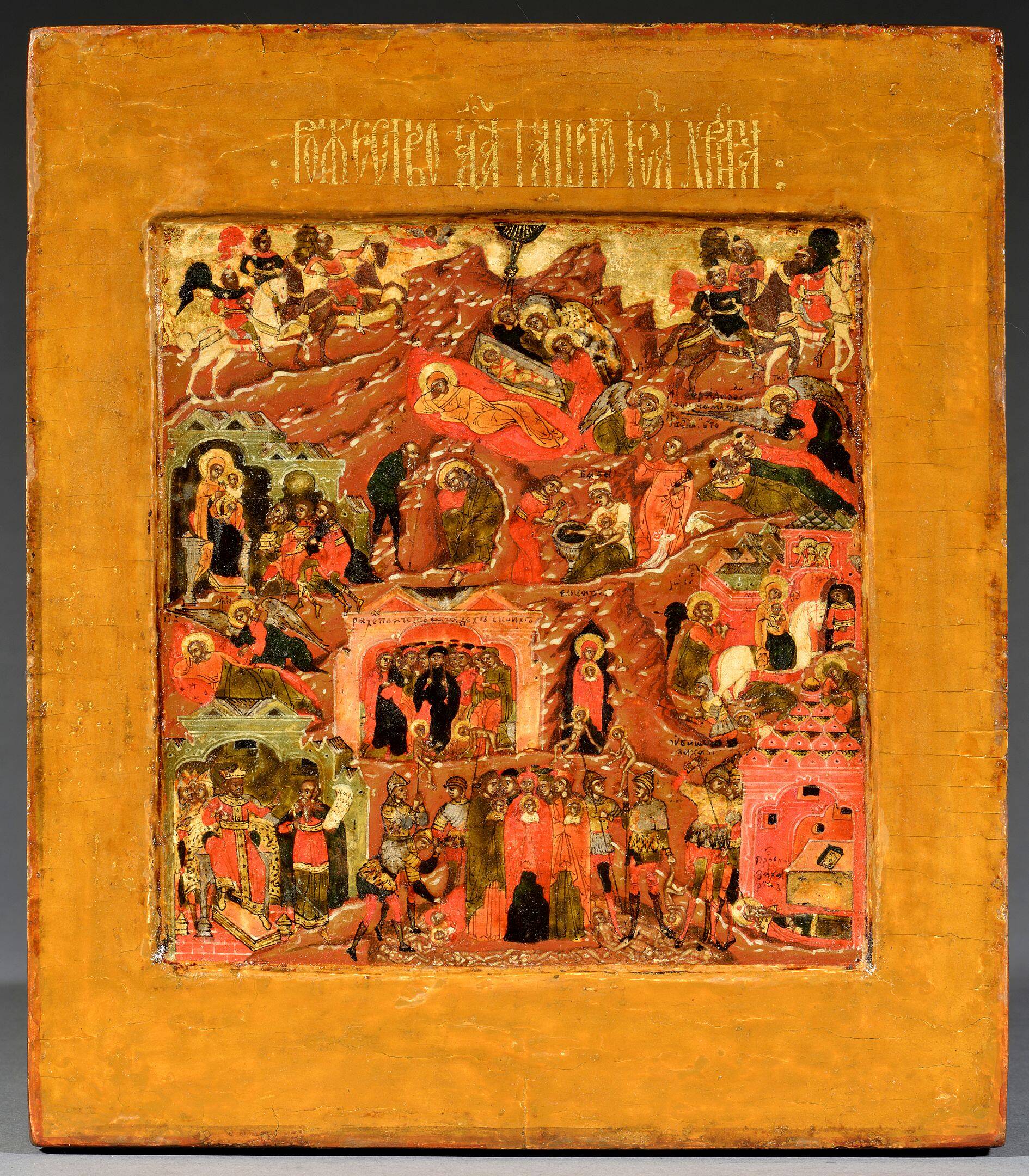 Icon: Nativity
K-6
Russia, Stroganov, first half 17th century
Tempera on panel, 21,5 x 18,5 cm


Provenance:
Private Collection, Belgium
Morsink Icon Gallery, Amsterdam

ALR Ref. No: S00202163


Bibliography:
Unpublished
Inquire for price
The story of the Nativity is represented in a continuous scene. In the upper centre, the newborn Christ Child lies in a manger in a cave. The Mother of God is lying on a red cushion in front of the cave, and three angels with covered hands are worshipping the Christ Child. Below this scene, Joseph is in conversation with an old man dressed in sheepskin, while the midwife is giving Christ his first bath.

In the upper left and upper right corner of the icon, the three wise men from the East are riding on horseback, while pointing to the star of Bethlehem. Below, to the left, the three wise men, depicted in energetic poses offer their gifts to Christ. Following Byzantine iconography, the Mother of God sits like an empress in an architectural niche. Below, an angel appears in a dream to Joseph and warns him of King Herod's plans. To the upper right, the same angel appears to the three sleeping wise men to warn them to return home by another way.

The story of the Holy Family's flight into Egypt is depicted to the right. The Mother of God is sitting on a white horse with Christ on her lap. Jacob, the half-brother of Christ (son from a previous marriage of Joseph), leads the horse. Joseph follows with a knapsack on his shoulder. Two golden idols bow deeply for Christ as He is passing.

The lower part of the icon depicts the story of the Massacre of the Innocents in detail. At the lower left corner, King Herod consults his advisors, who explain to him that someone has been born who will be more powerful than he is. In the lower center, the soldiers kill the children of Bethlehem. To the right, the high priest Zachariah, the father of St John the Baptist, is murdered in the temple by the soldiers because he refuses to say where his son is. Above, Elisabeth flees into the mountains with St John the Baptist, where she retreats into a mountain with her son. To the right Nathanael is lying under a fig tree, hidden by his mother.

The small icon is painted in a refined miniature style. The delicate use of silver and gold, the lively poses of the figures and the detailed rendering of the architecture and the clothing, betray the hand of a confidant master. The icon must have been painted in a prominent workshop in Moscow or within Stroganov circles. The Stroganovs, an extremely wealthy family of merchants—originating from Novgorod and later residing in Solvychegodsk—were enthusiastic supporters of a new painting 'school'. The icons they commissioned were often small and precious to an unprecedented degree. The Stroganovs had close ties to the imperial court and were strongly oriented towards Moscow. The icon painters who were working in Moscow, were also invited to the workshop in Solvychegodsk where they attempted to surpass the Moscow style in refinement.