Greek icon | Mystical Marriage of St Catherine of Alexandria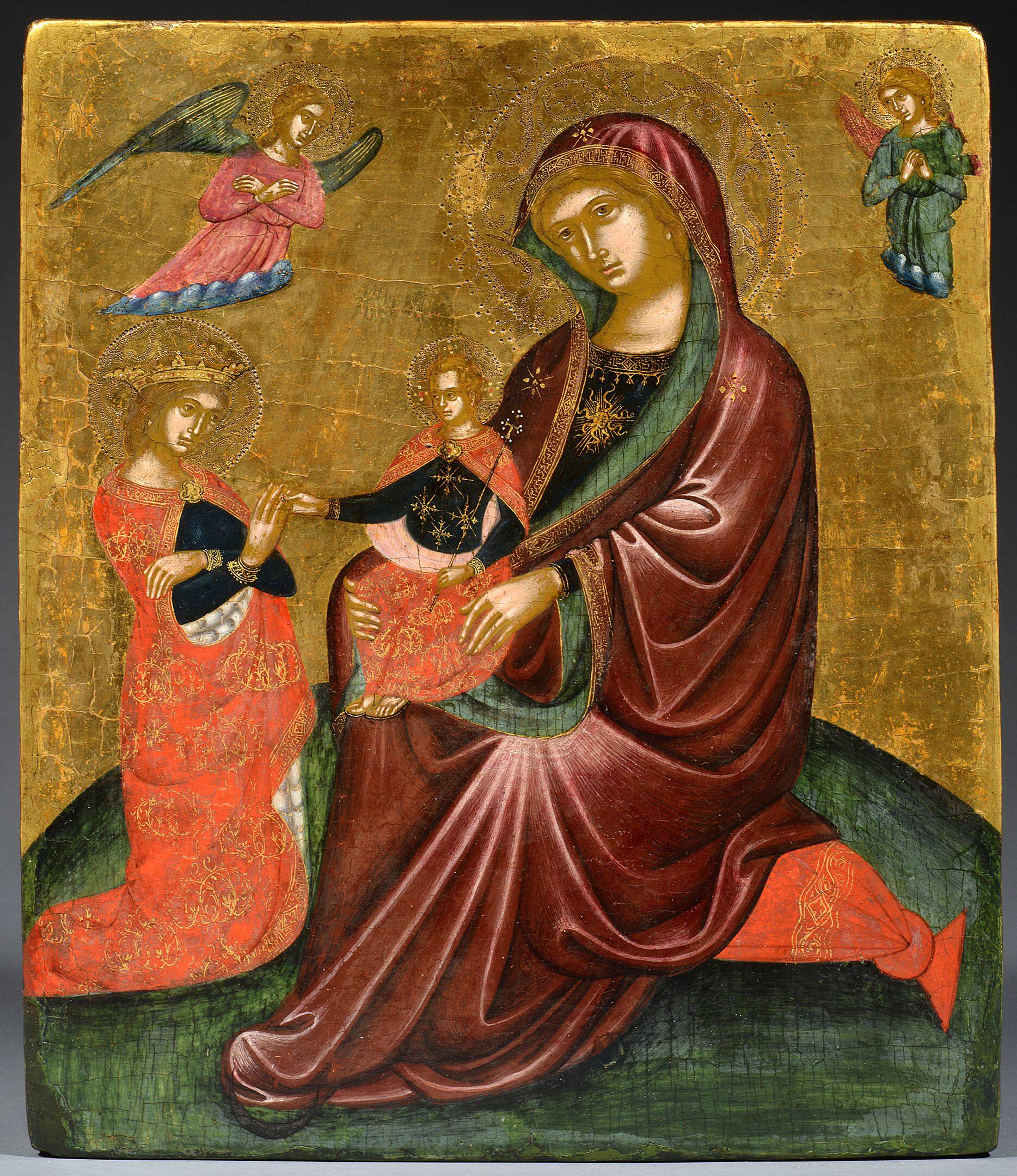 Icon: Mystical Marriage of St Catherine of Alexandria
D-5
Veneto-Cretan, early 16th century
Tempera on wood, 42.5 x 36 cm


Provenance:
Private Collection, London, UK
Morsink Icon Gallery, Amsterdam

ALR Ref. No.: S00156946


Bibliography:
Unpublished
Inquire for price
St Catherine came from a royal family and was famous for her beauty, wisdom, eloquence and chastity. She lived in Alexandria during the reign of the Roman emperor Maximinus in the 4th century. The saint was subjected to cruel torture and executed after she had attempted to convert the emperor to the Christian faith. During her prayers she had a vision that she was married in heaven to the Christ Child.
The icon depicts St Catherine kneeling down at the moment of her mystical union with Christ. The Virgin Mary appears to her with on her lap the Christ Child. He slips a ring onto St Catherine's finger, so making her his bride. The figures are placed on a semi-circular, globe-like, green ground. The Virgin is sitting on a bright red cushion and her feet rest on a small moon crest. She is traditionally dressed in a dark blue tunic and a purple 'maphorion' (mantle), opening onto her chest and leaving visible a gold sun. The hems of both her tunic and mantle are decorated in gold with finely executed pseudo-Kufic inscriptions. With both hands she holds the Christ Child, who is sitting on her right knee. Christ is holding a gold cross-sceptre in his left hand and the wedding ring in his right hand. His undergarment is a dark blue tunic, decorated with gold stars. His orange-red robe has an intricate pattern of gold decoration and is fastened at the chest with a brooch. St Catherine is wearing a royal crown. Her dress mirrors Christ's garments, but her mantle is lined with costly ermine fur, referring to her royal lineage. She crosses her arms before her chest and inclines her head towards Christ. In the upper part of the icon, two angels appear, the one to the left crossing his arms before his chest and the one to the right piously folding his hands.
The composition of the icon is based on Trecento Italian models. The painting, executed against a gold ground is of high quality and a fine example of the Veneto-Cretan style of the early 16th century. The post-Byzantine icon painters on Crete were renowned for their exceptional technical skills. The capital Candia (the present Heraklion) became a centre of artistic activity after the fall of Constantinople in 1453.