Russian icon | Myrrh-Bearing Women at the Empty Tomb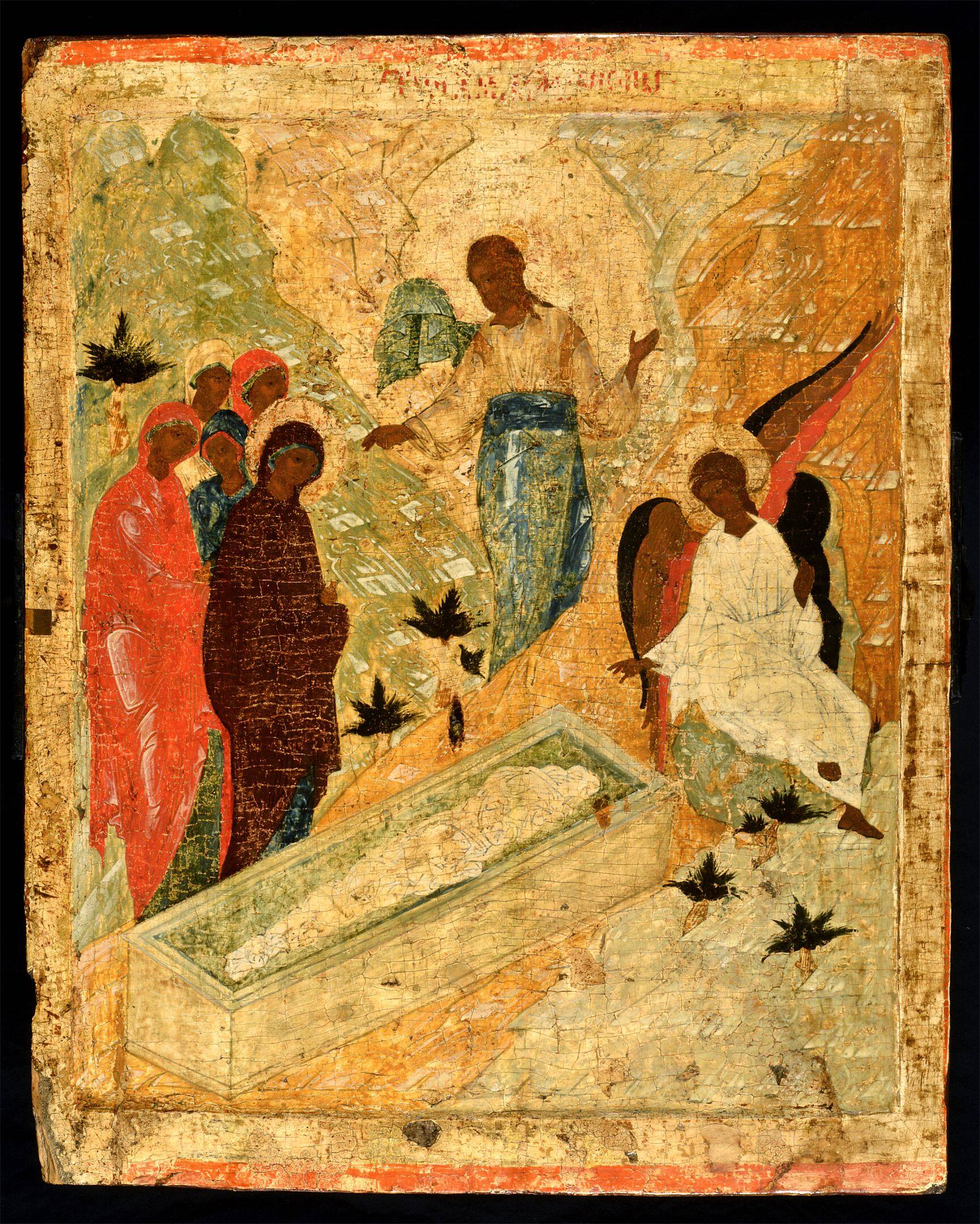 Icon: Myrrh-Bearing Women at the Empty Tomb
T-2
Russia, Vologda, early 16th century
Tempera on wood, 75.5 x 61 cm
This monumental icon comes from the Feastday row of an iconostasis. According to the evangelists various women went to Christ's tomb on Easter morning to anoint His body with spices. However, they found the stone rolled back from the entrance and the tomb empty; an angel informed them that Christ had risen.

The icon incorporates various elements of the story in a rocky landscape. The white-clad angel is portrayed to the right of the oblong stone sarcophagus. He is seated on the stone that has rolled away from the entrance to Christ's tomb. One of the angel's wings points upwards, the other downwards, as if he has just alighted; the position of his wings represents his role as messenger between heaven and earth. With his right hand he makes a declamatory gesture and draws the Virgin Mary's attention to the empty grave white clothes, symbol of Christ's miraculous rising and victory over death. To the left, the Mother of God stands behind the sarcophagus, holding a small pot of myrrh. She is accompanied by a group of four women standing together closely, who witness the event. In the centre, the resurrected Christ appears with a fluttering mantle. His appearance alludes to Christ's meeting with Mary Magdalene in the garden of Olives shortly after his death.
The icon is painted in bright colours. The style of painting has a lyrical character.The graceful movement of the elegant, elongated figures, with their relatively small heads, remind of the icons of Dionisy, one of the three famous icons painters of Russia who was active around 1500. His influence was felt in icon painting workshops throughout Russia in the early 16th century. The specific colour scheme and the execution of the white highlights of the present icon, point in the direction of the Vologda area as the place of origin.