Greek icon | Mother of God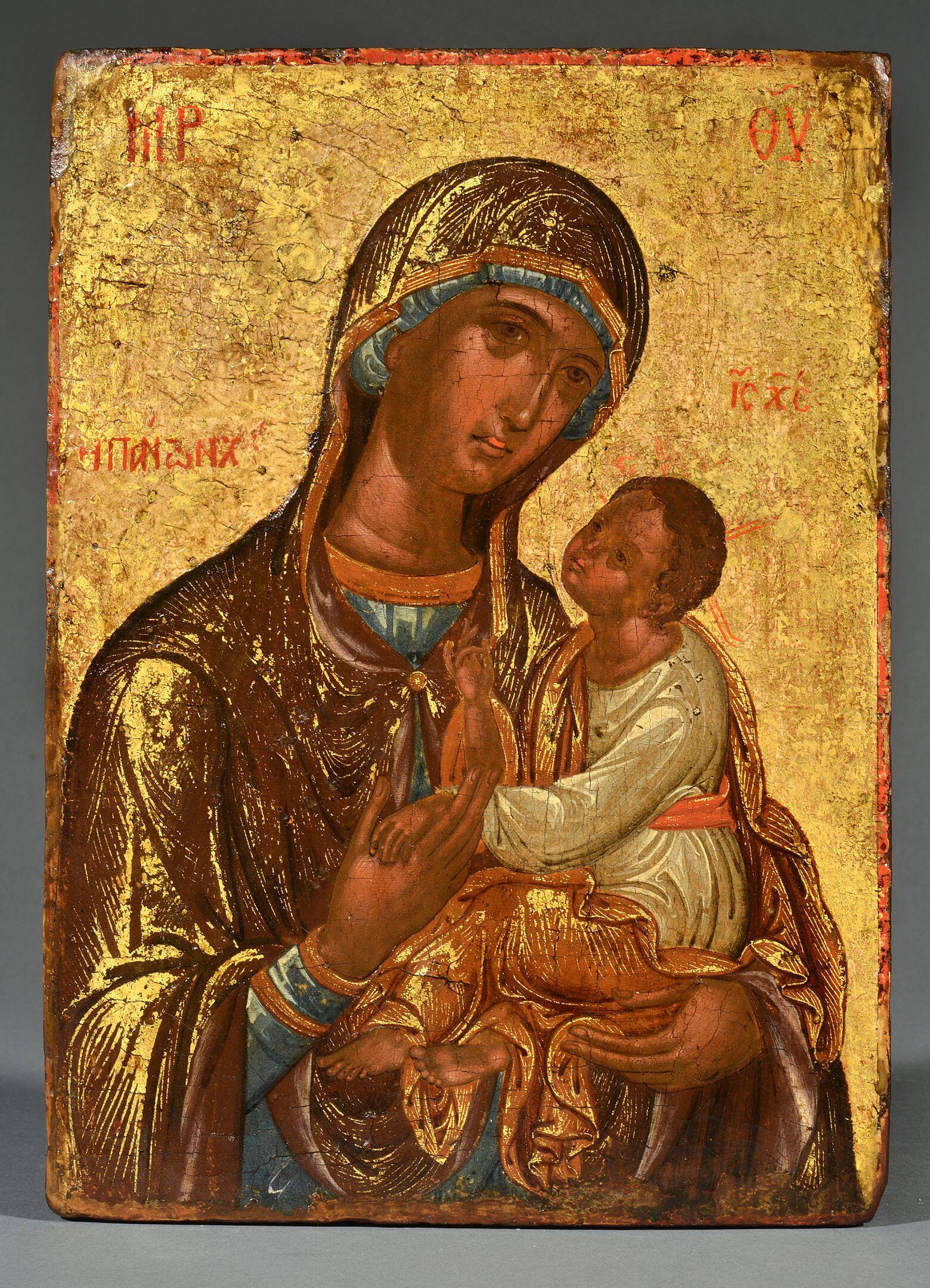 Icon: Mother of God
A-9
Crete or Ionian Islands, mid-17th century
Tempera on wood, 24.7 x 18 cm


Provenance:
Private collection, USA
Morsink Icon Gallery, Amsterdam, The Netherlands
ALR Ref. No.: S00151040



Bibliography:
Unpublished
Simon Morsink
The Virgin is depicted half-length against a gold background and turning to the right. Her divine name MP ΘΥ (Mother of God) is written in abbreviated form in cinnabar red Greek letters in the upper left and upper right corner. To the left her honorary title Η ΠΑΝΤΩΝ ΧΑΡΑ, Joy of All (Hamann-Mac Lean 1976, pp. 100. 101), is written in the same capital Greek letters. On her left arm, the Virgin holds the Christ Child. She gracefully turns her head towards him. The Mother of God wears a blue tunic bordered with gold and a dark red brown purple maphorion, bordered with gold as well, and decorated with a fine pattern of gold lines, just like Christ's mantle. Christ has crossed his right leg under his left one and has put his left hand in his mothers to seek comfort. With his raised right hand, he makes a sign of blessing. Christ is wearing a white chiton with a red band wrapped around his waist, and an ochre mantle over his right shoulder, which covers him from the waist downwards. Christ's name, too, is written in red letters to the right of his head: IC XC. The figures' faces and hands are finely painted and modelled in shades of ochre and pink. The serene face of the Mother of God has a loving expression. While she is looking at the viewer, the Christ Child looks up at his mother and tries to catch her eye.

The icons are a rare iconographic variant of the type of the Mother of God of the Passion. The main difference is in Christ's pose, who is looking up at his mother instead of turning his head towards an angel behind him. In addition, He is also not putting both his hands in his mother's right hand, but just one.

The icon is painted in the traditional Cretan style, although the relatively supple fall of the folds of the mantle of the Christ Child and the more 'fleshy' treatment of the faces of the figures point towards western influences. This might point towards an origin from the Ionian Islands, where most Cretan icons painters took refuge and founded new workshops after the conquest of Crete by the Ottoman Turks which gradually took place from 1645 to 1669 (Haustein-Bartsch / Morsink, 2017, p. 93).
Literature:
Haustein-Bartsch / Morsink 2017
Eva Haustein-Bartsch, Simon Morsink, Die Farben des Himmels: 15 kretische Ikonen aus einer europäischen Privatsammlung, Recklinghausen 2017
Hamann-Mac Lean 1976
Richard Hamann-Mac Lean, Grundlegung zu einer Geschichte der mittelalterlichen Monumentalmalerei in Serbien und Makedonien, 1976