Russian icon | Mother of God Besednaya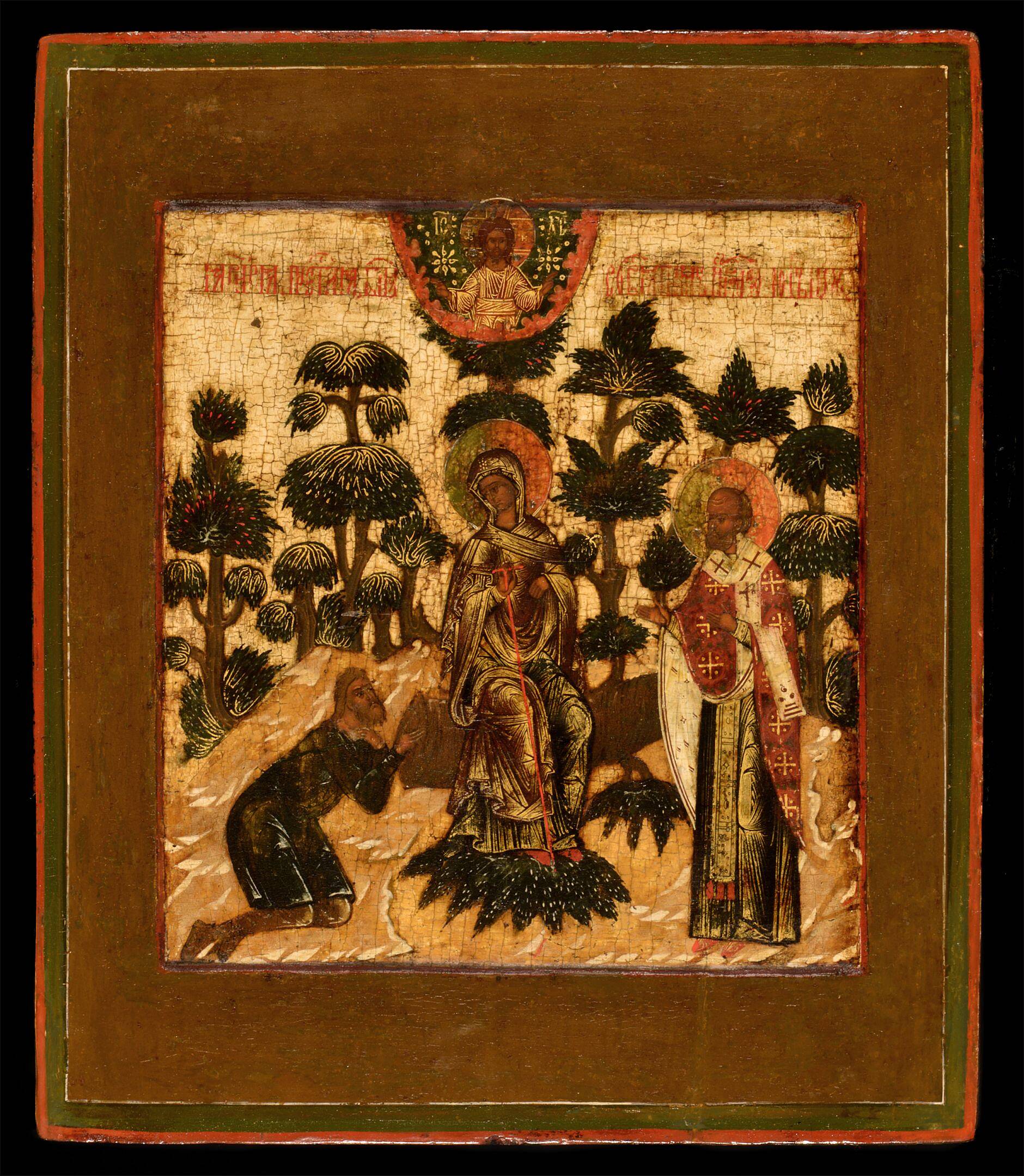 Icon: Mother of God Besednaya
T-21
Central-Russia, 19th century
Tempera on wood, 32 x 26.5 cm
The icon shows the typical iconography of the Besednaya Mother of God. Against a background with stylised trees, the Mother of God appears before Yuri, who has fallen on his knees. The Virgin sits on a trunk. St Nicholas stands to the right, dressed as a bishop, with both his hands raised in prayer. On top Christ Pantocrator appears in a segment of heaven, making a sign of blessing with both hands.
In 1383, soon after the miraculous appearance of the icon of the Mother of God Tikhvinskaya, a sexton named Yuri was sent to herald to the surrounding villages the day of the consecration of the church dedicated to the appearance of the icon. On his way back, some distance from Tikhvin, Yuri suddenly saw the Mother of God, sitting on a pine trunk and holding a staff in her hand. Before her stood St. Nicholas. The Mother of God ordered Yuri to tell the clergy that a wooden, and not an iron cross should be put on top of her church. Yuri carried out her command. However, the people did not believe him, and began to install the iron cross already prepared for the church. A sudden storm threw the worker holding the iron cross from the roof without causing any harm either to the worker or to the cross.
On the site of the apparition, a church dedicated to St. Nicholas was erected. A cross made from the pine trunk on which the Mother of God had sat was installed on top of that church. In 1515, after several miracles had occurred at the site, a new wooden church was erected by Great Prince Vasily Ioannovitch, dedicated to the Mother of God and St. Nicholas. A monastery also established at this site was called the Besedniy Monastery (Monastery of the Beseda, or 'Conversation'), in honour of the miraculous appearance of the Mother of God and St. Nicholas and their tender conversation with the sexton Yuri. The Icon depicting this miracle is known as the Mother of God Besednaya.