Russian icon | Mandylion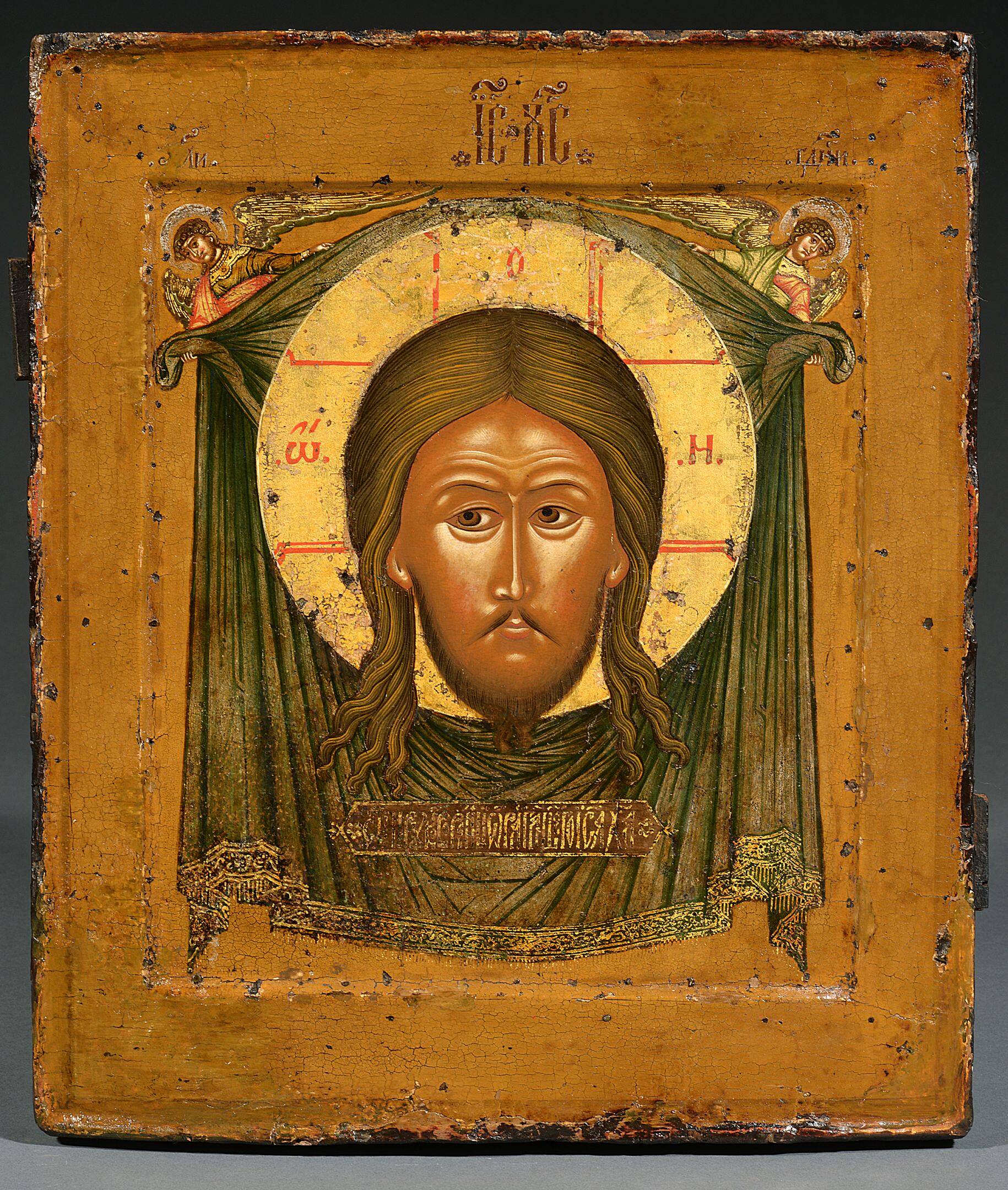 Icon: Mandylion
B-12
Russia, Kostroma, circle of Nazari Istomin Savin (documented 1614-1632),
first half 17th century
Tempera on panel, 31.5 x 26 cm


Provenance:
George C. McGhee (1912 – 2005), Virginia, USA, thence by descent
Dallas Museum of Fine Art, Dallas, Texas, USA (on loan 1958 – 2019)
Morsink Icon Gallery, Amsterdam

ALR Ref. No.: S00153432


Bibliography:
Unpublished
The portrait of Christ the Saviour 'Nerukotvorenniy' ( Not Made by Human Hand) is depicted on a green cloth, finely decorated with gold along the lower hem. The cloth is being held up by two angels in the upper left and upper right corner. Christ is portrayed with long brown hair, falling in soft curls around his ears. The gold nimb surrounding Christ's face contains a cross. His face is characterized by the regularity of its features, with a long, narrow nose and arched eyebrows. The large, almond-shaped eyes do not look directly at the viewer but seem to concentrate on an inward, spiritual world.
The style of the painting is close to the work of the renowned icon painter Nazarii Istomin Savin (documented 1614-1632), who was active in Kostroma and in Moscow. He worked as an icon painter for Tsar Michael Romanov and was involved with the painting of the interior of the palace of the tsar in the Kremlin in Moscow in 1621. In 1624 he was ordered to paint a copy of the famous 14th century Byzantine icon of the Petrovskaya Mother of God and in 1627 he painted the icons for the new iconostasis of the church of the Deposition of the Virgin's Robe in the Moscow Kremlin. His equally famous son Nikifor Istomin Savin travelled to paint icons for the Stroganov family.
The image is based on an old legend of King Abgar of Edessa. The king, who was chronically ill, was said to have sent an envoy to Christ with a request to come to Edessa to heal him. Christ was unable to grant the request, but gave the envoy a cloth with an impression of his face on it. When the ailing king touched the cloth he was immediately healed. The original cloth was taken from Edessa to Constantinople in the year 944. When the crusaders looted and conquered Constantinople in 1204, the cloth disappeared without a trace.