Russian icon | Holy Trinity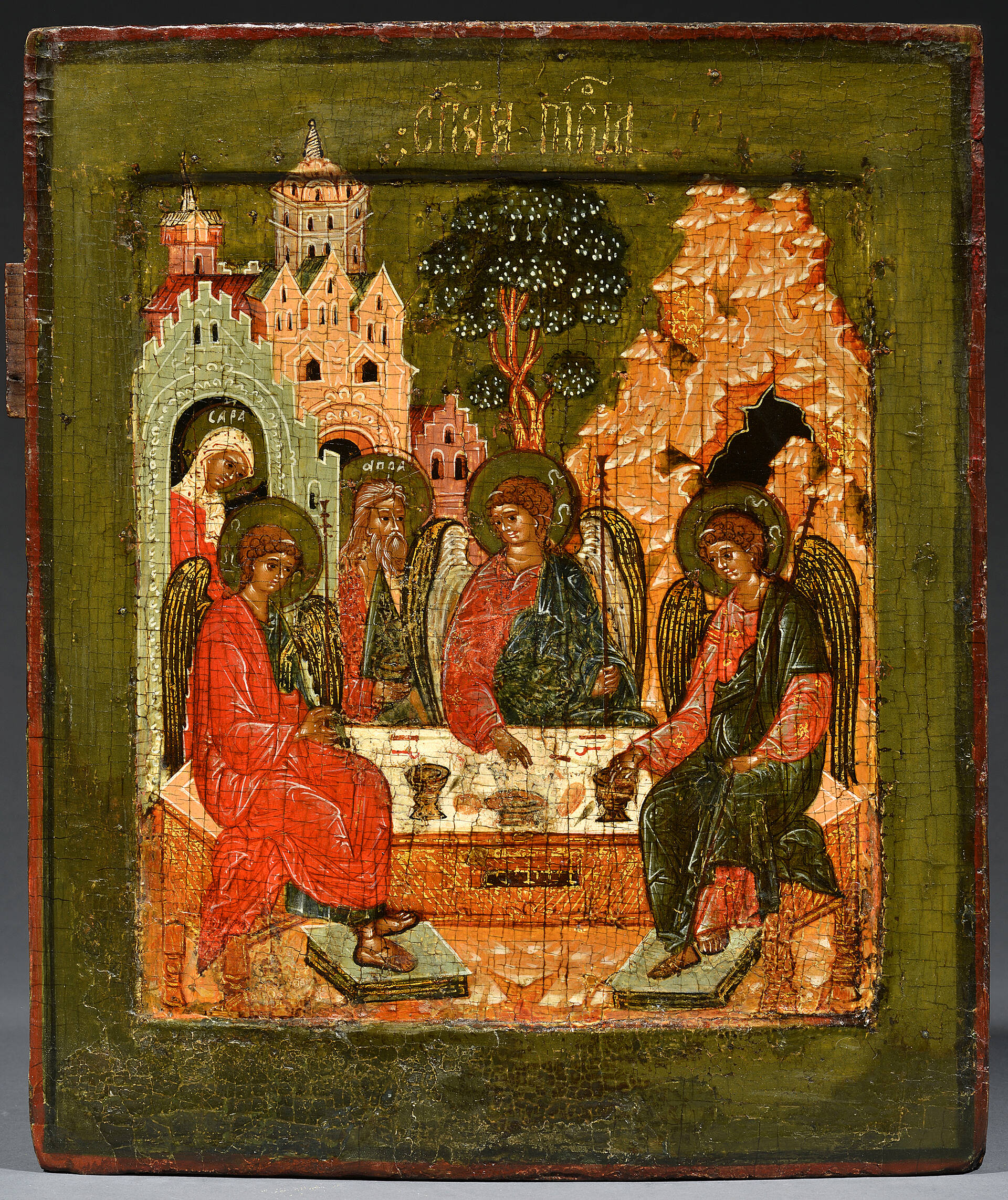 Icon: Holy Trinity
E-3
Russia, Moscow under Pskov influence, circa 1600
Tempera on panel, 30.7 x 26.3 cm


Provenance:
Sotheby's London, 19 February 1973, Lot 188
Christie's Geneva, 22 November 1974, Lot 120
Private collection, New York
Morsink Icon Gallery, Amsterdam

ALR Ref. No.: S00158652
The icon of the Holy Trinity is based on the old testament story of Abraham's Hospitality (Genesis 18:1-16). Three identical men visited Abraham and his wife Sarah at the oak of Mamre, and predicted the birth of a son, Isaac. The icon depicts the three angels of the Holy Trinity sitting around a prepared table. All three angels hold a messenger's staff in one hand and make a blessing gesture with the other hand towards the chalices before them. Their feet are placed on a schemel (footrest). To the left, Abraham is offering the angel in the center, traditionally interpreted as Jesus Christ, a chalice. Sarah is represented to the far left, standing in the door opening of her house. In the background are the traditional oak of Mamre and the rock.

This fine icon is painted in a characteristic and individual style , showing typical features of Moscow icon painting under Pskov influence during the late 16th century. The dark olive green background, the finely painted and expressive faces, with their piercing black eyes, the contrasting colour scheme and the overall 'mystical' atmosphere of the icon, betray the hand of a skilled master who was influenced by the traditions of Pskov icon painting. Veneration of the Holy Trinity was deeply rooted in Pskov, where the first church dedicated to the Trinity was built as early as the 12th century. In the year 1510, the city of Pskov lost its independence to Moscow, but Pskov icon painting remained an source of inspiration for artists throughout Russia, especially in Moscow, until the early 17th century.

In the Russian orthodox church the feast of the Holy Trinity is celebrated during Pentecost, as Pentecost is regarded as the feast at which the revelation of God as Three-In-One is completed. At Christmas the Father sends his Son, at Easter the Son vanquishes death, and at Pentecost the Holy Spirit descends on the people. Pentecost is thus the feast of the revelation of the third person who, together with the Father and the Son, brings about the salvation of mankind.