Russian icon | Finding of the Head of St John the Forerunner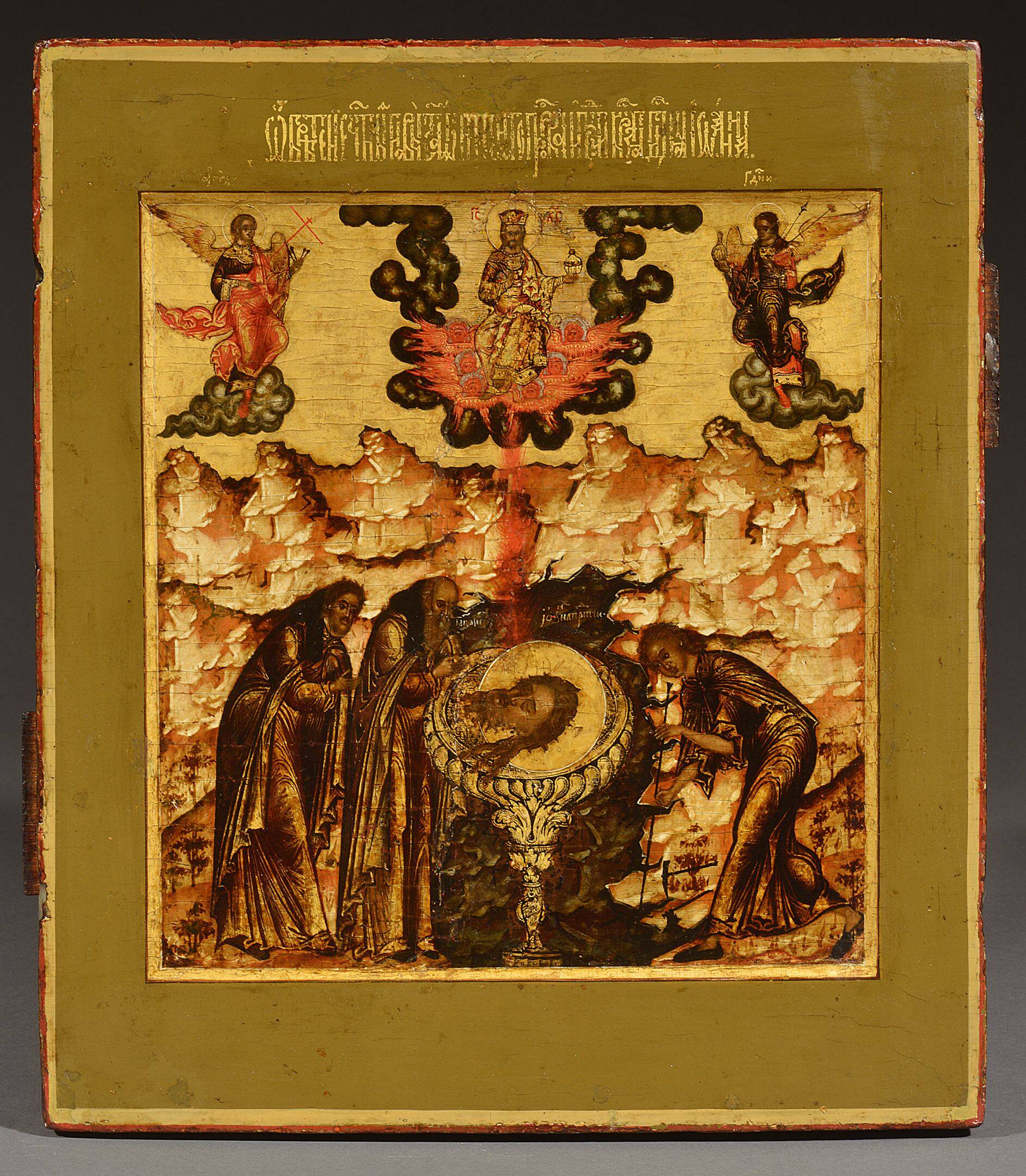 Icon: Finding of the Head of St John the Forerunner
B-15
Russia, Kostroma, circle of Gury Nikitin (ca. 1620–1691),
third quarter 17th century
Tempera on panel, 30.5 x 27 cm


Provenance:
Dimitri Apazidis Collection, Stockholm, thence by descent
Morsink Icon Gallery, Amsterdam

ALR Ref. No.: S00153437


Bibliography:
Unpublished
St John the Forerunner is the most important male orthodox Christian saint. According to legend, his head, decapitated at the command of King Herod, was repeatedly hidden and rediscovered over time. Two feast days in the Orthodox Church calendar commemorate the finding of the head of St John: the first and second finding on the 24th of February, and the third in the year 823 on the 25th of May.
In the upper part of the icon Christ appears in a segment of Heaven, flanked by angels holding the instruments of Passion. From Christ a fiery ray of light falls down on the large gold chalice with the decapitated head of St John which stands in the centre of a rocky landscape. Three monks who have just unearthed the head are looking at the chalice while bowing in reverence.
The subject of this fine icon and the style of painting reminds of the work of the famous Russian icon painter Gury Nikitin ((1620, in Kostroma – 1691, in Kostroma). His icon of the decapitated head of St John as a main subject is one of the oldest examples in Russia. Gury Nikitin participated in the decoration of the Moscow Church of the Holy Trinity, Nikitniki, the Church of Elijah the Prophet in Yaroslavl, the Assumption Cathedral in Rostov and the Holy Saviour of St. Yefim Monastery in Suzdal.
The icon comes from the collection of Dimitry Apazidis (1918–1994), an employee of the Greek and later Swedish Embassies in Moscow. A significant part of his icon collection now is in the Andrei Rublev Museum in Moscow. He collected early icons at a time when they were of no interest to anyone and often consulted Georgy Kostakis, who already had started collecting icons in the 1930s. He was well acquainted with Ivan Baranov, a well-known Russian icon restorer.