Russian icon | Evangelist St Marc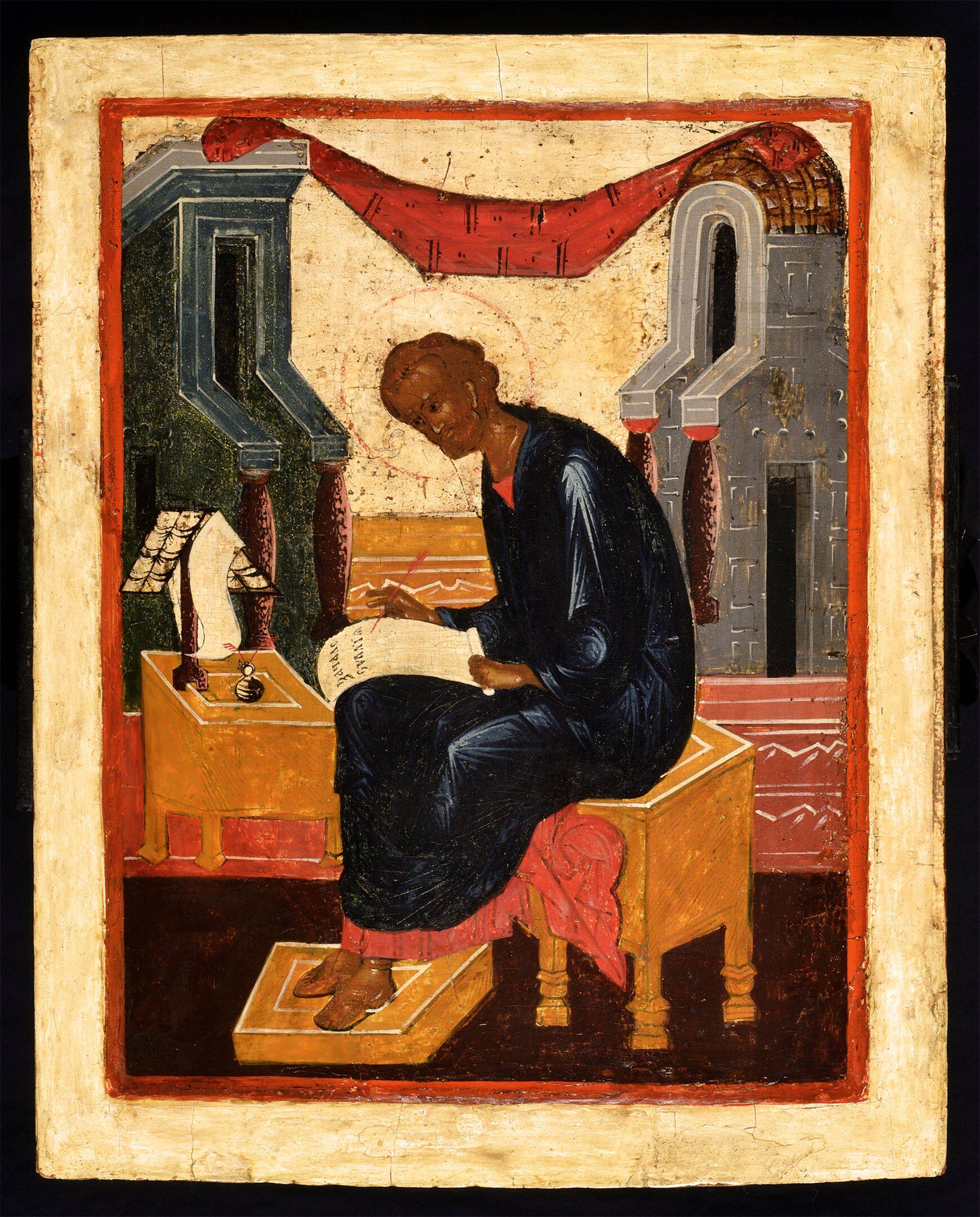 Icon: Evangelist St Marc
T-3
Russia, 16th century
Tempera on wood, 52.3 x 41 cm
The icon shows St Marc the Evangelist against an architectural background, on a wooden seat, inclined, facing left, and wearing his traditional dress of a red tunic and a dark blue mantle (pallium). His sandal-clad feet rest on a foot-stool. In his left hand he holds an open text scroll and with his right hand he holds a quill, while making a gesture of blessing. Next to him, an inkpot is placed on a small table. The bright red cloth (velum) connecting the two buildings in the background indicates, that the writing of the evangelist is taking place indoors.
On the icon, St Luke's role as a writer is emphasized. Writers had been depicted in this way ever since the time of the Roman and Byzantine empires: side-on, seated with their feet on a rest and with an inkpot close to hand. Classical authors of important writings are depicted in this manner in miniature on the first page of their works.
The icon comes from the Royal Door of an iconostasis. During the celebration of liturgy in the orthodox church, the opening of the Royal Door signifies the opening of the Royal Kingdom for believers. The closing of the Royal Door reminds them of the eviction from the Garden of Eden after the Fall. Traditionally, the Annunciation is depicted on the ornate top of the Royal Door, whereas the four evangelist St John, St Matthew, St Luke and St Marc are depicted below. Usually St Marc is depicted below on the right wing of the Door.