Russian icon | Evangelist St Marc from a Royal Door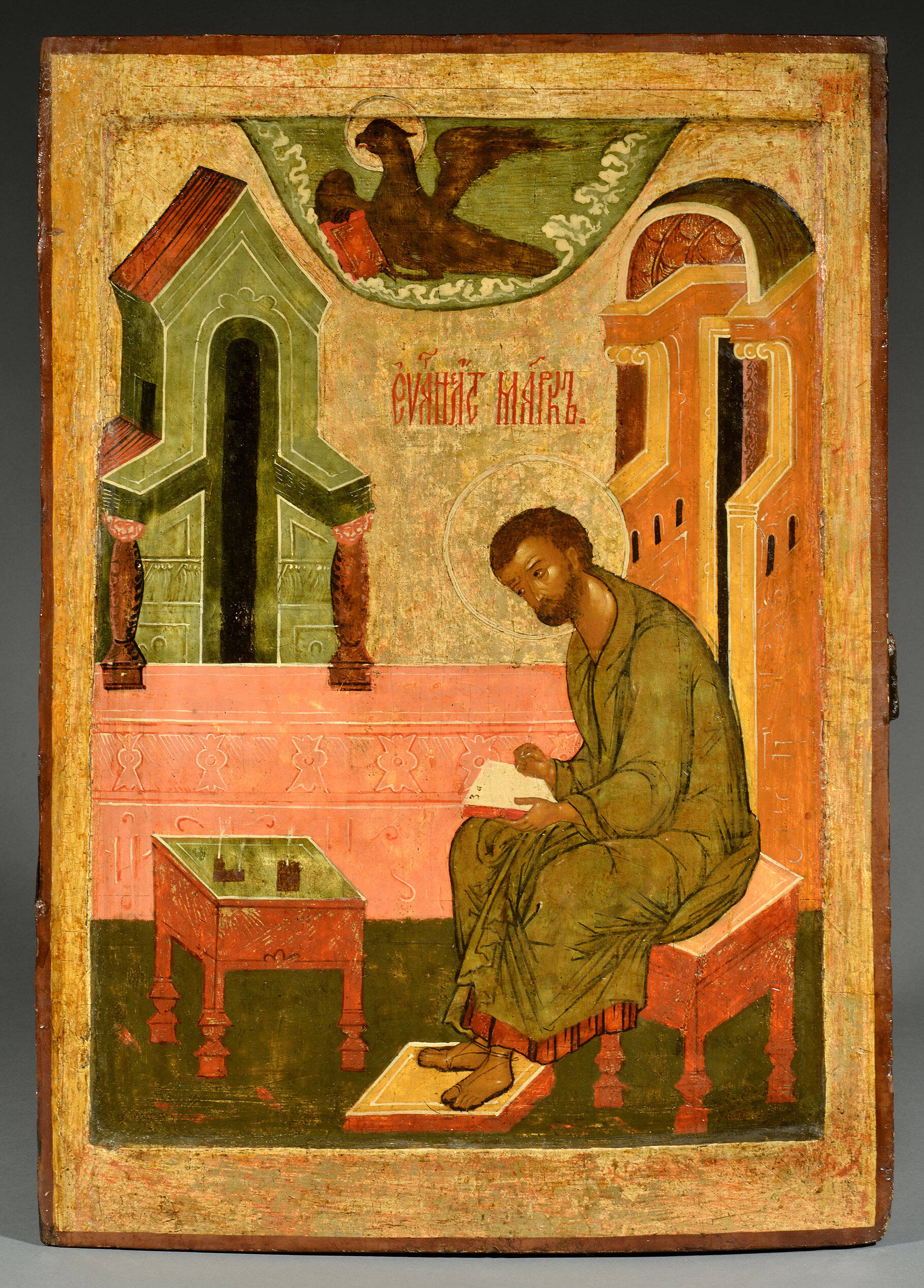 Icon: Evangelist St Marc from a Royal Door
B-7
Central Russia,, circa 1600
Tempera on panel, 57.5 x 40 cm


Provenance:
Sotheby's London, 20 February 1985, Lot 143
Private collection, Rome
Morsink Icon Gallery, Amsterdam

ALR Ref. No.: S00153428
Inquire for price
The icon depicts St Marc against an architectural background, on a wooden seat, inclined and facing left. He is wearing a red tunic and a green pallium. His sandal-clad feet rest on a foot-stool. Using a quill-pen he is writing the first words of his gospel. On a desk in front of him stands a black ink pot and a holder.
The seat, foot-rest and ink-pot emphasize St Marc's role as a writer. Classical authors of important writings were depicted in the same way in miniature on the first page of their works since the time of the Roman and Byzantine empires.
The icon comes from the Royal Door of an iconostasis. During the celebration of liturgy in the orthodox church, the opening of the Royal Doors signifies the opening of the Royal Kingdom for believers. The closing of the Royal Doors reminds them of the eviction from the Garden of Eden after the Fall. Traditionally, the Annunciation is depicted on the ornate top of the Royal Doors, whereas the four evangelist St John, St Matthew, St Luke and St Marc are depicted below.
The Gospel of St Marc probably dates from about 60 A.D. It is regarded as the oldest of the synoptic writings and was intended for heathens. It translates Hebrew and Aramaic words and explains Jewish customs.