Russian icon | Diptych: Panagia with Mother of God of the Sign, Holy Trinity, Mandylion and St Simeon Stylites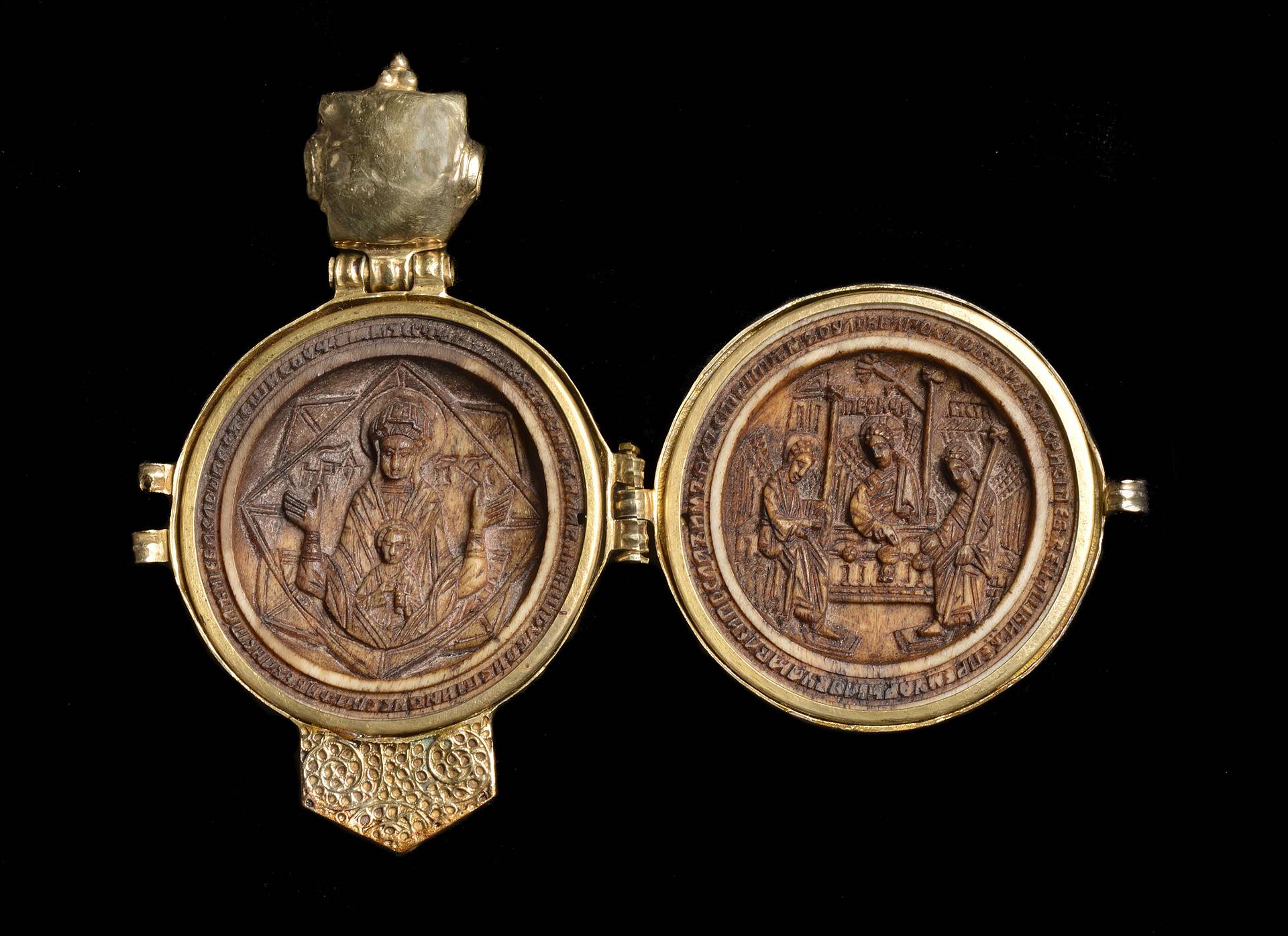 Diptych: Panagia with Mother of God of the Sign, Holy Trinity, Mandylion and St Simeon Stylites
T-8
Russia, second half 16th century
Carved walrus bone (in original silver gilt filigree holder) Open: 7 x 9.3 cm / closed: 7 x 4.7 cm
The left medallion of this double sided Panagia depicts the Mother of God Znamenie on the inside and the pilar saint Simeon on the outside. On the right medallion, the Holy Trinity is represented on the inside and the Mandylion on the outside. Both medallions are finely carved in walrus bone and set into a silver gilt filigree holder.
In Russia by the 16th century, Panagia had taken the form of a mostly wooden, ivory or walrus bone round diptych, which could be opened to see the finely carved images. These Panagia were worn by bishops and patriarchs.
The art of wood and ivory carving in Russia was brought to perfection by the monk Ambrose, who worked in the workshop of the Trinity Monastery in the 15th century. In the 16th century, especially in the second half, complicated many-figured compositions became wide-spread. During this period of time some of the main monasteries in Russia had special workshops where pectoral icons, crosses and Panagias were produced for the clergy and for sale to visiting pilgrims. Later on, in the 17th century, the complicated carvings were largely replaced by brass castings that were sometimes made from ancient moulds.