Russian icon | Christ the Unsleeping Eye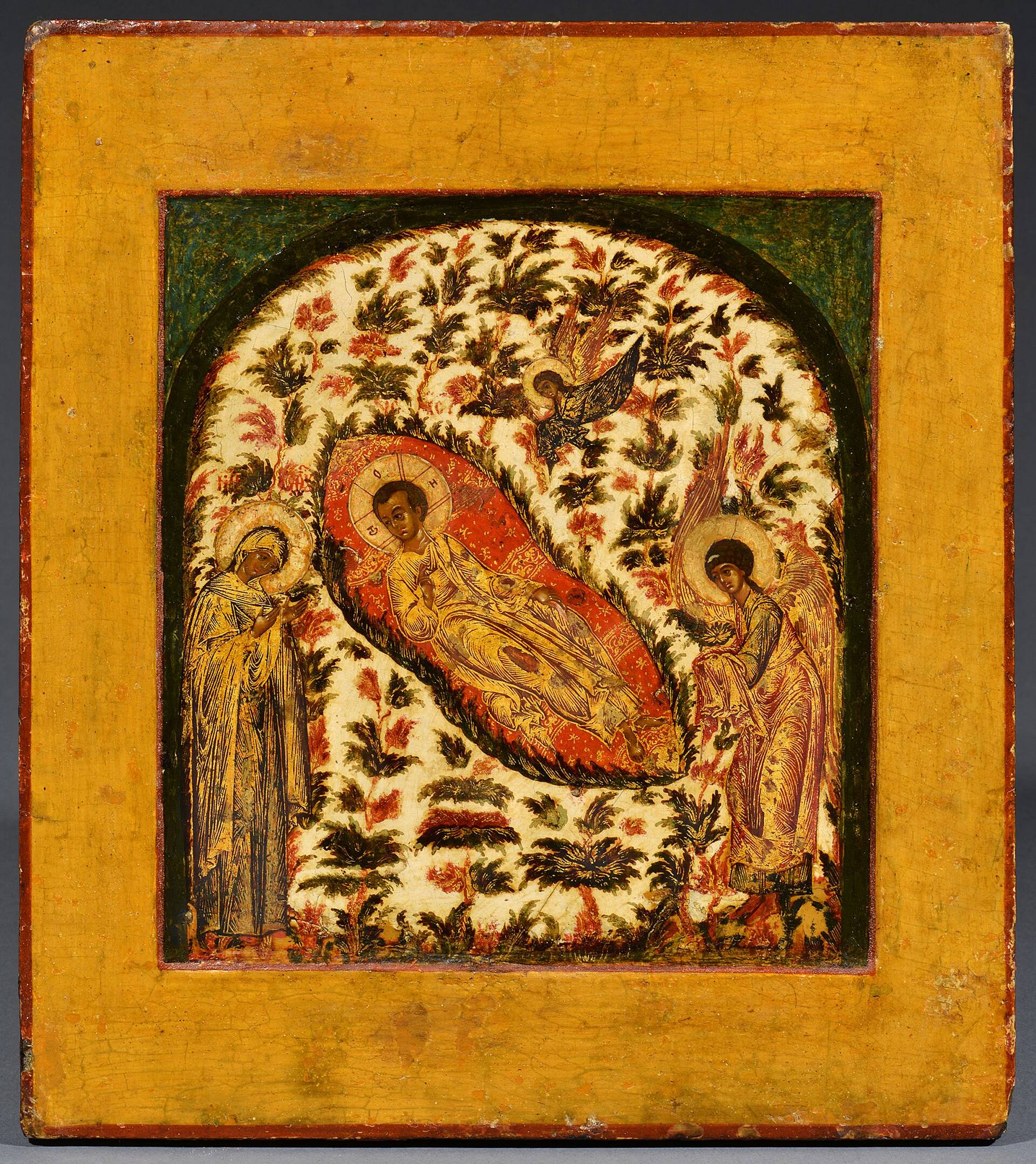 Icon: Christ the Unsleeping Eye
E-8
Russia, Moscow or Stroganov, first half 17th century
Tempera on panel, 30.7 x 26.7 cm


Provenance:
Private Collection, Germany
Morsink Icon Gallery, Amsterdam

ALR Ref. No.: S00158680


Bibliography:
Unpublished
The scene is set in a paradise-like garden with stylized bushed and flowers painted against an ivory coloured ground, within a dome-shaped form. In the centre, the Christ Child (Emmanuel) is lying on a diagonally placed, large red cushion. He is making a blessing gesture with his right hand and is looking to the Mother of God, who stands to the left side and raises her hands in prayer. To the right stands an angel, his hands covered in reverence. Another, smaller angel is hovering above the scene.

The image is based on two different texts, a Psalm (121:4) "Behold, he that keeps Israel shall neither slumber nor sleep", and a Hymn (Genesis 49:9) "…reclining he slept as a lion, and as a [lion's] whelp; who shall rouse him up?". The Byzantine hagiographer Simeon Metaphrastes, in the tenth century, expressed the belief that a lion sleeps without closing his eyes; further, that the young of a lion are born dead, but are brought to life by the parents on the third day, just like Christ was "brought to life" after his death.

The icon is painted in a refined miniature style. The abundant use of chrysography (decoration consisting of fine gold lines) for the garments of the figures immediately catches the eye. The icon must have been painted in a prominent workshop in Moscow or in the Stroganov circle. The Stroganovs, an extremely wealthy family of merchants—originating from Novgorod and later residing in Solvychegodsk—were enthusiastic supporters of a new painting 'school'. The icons they commissioned were often small and precious to an unprecedented degree. The Stroganovs had close ties to the imperial court and were strongly oriented towards Moscow. The icon painters who were working in Moscow, were also invited to the workshop in Solvychegodsk where they attempted to surpass the Moscow style in refinement.