Russian icon | Christ, Saviour of Smolensk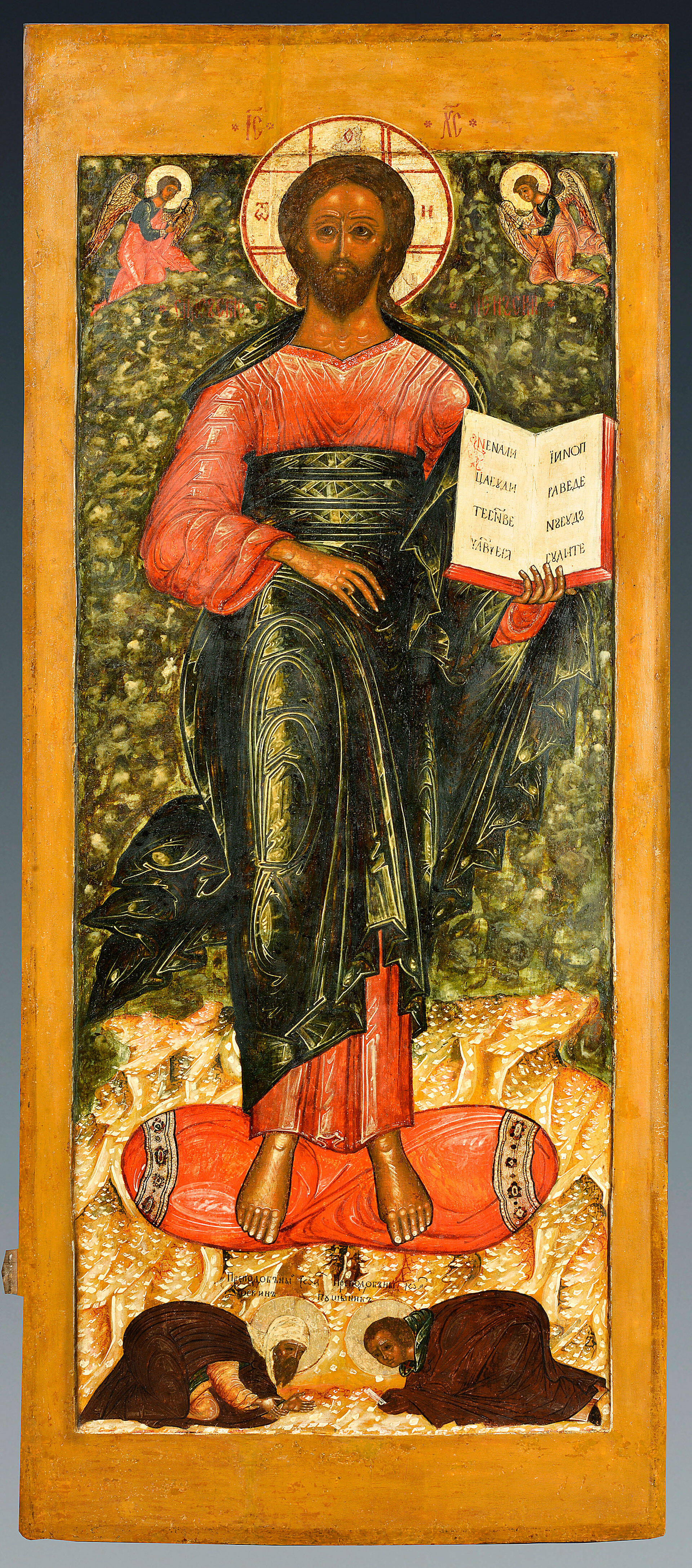 Icon: Christ, Saviour of Smolensk
K-7
Russia, Jaroslavl, mid-17th century
Tempera on panel, 137 x 56 cm


Provenance:
Private Collection, Europe
Private Collection, Italy
Morsink Icon Gallery, Amsterdam

ALR Ref. No: S00202734


Bibliography:
Unpublished
In this monumental icon, Christ is represented as Pantocrator (Almighty) and is depicted in frontal position against an olive green background with swirling clouds. Christ stands on a rocky ground, his feet placed on a red cushion (suppedion) like a byzantine emperor. With his right hand He makes a blessing gesture and with his left hand He holds the open book of gospels. The text in church slavonic, written in the Greek manner, reads: 'Do not judge by appearances, but judge with right judgement' (Joh. 7:24). Christ wears a long red tunic (chiton), symbol of his divine nature, and a greenish-blue mantle (himation), symbolising his human nature. The combination of the elongated body of Christ and the relatively small head is meant to evoke the divine. In the upper left and upper right corner two angels are shown, holding the instruments of passion. Below, two rare monk saints are kneeling in prayer at Christ's feet: to the left, St John Damascene, his head covered with a white scarf, and to the right St John Pustynnik (of the Desert), holding a closed scroll.

The style of painting indicates an origin from the Yaroslavl-area and a dating in the mid-17th century. In the 17th century Yaroslavl developed into one of the most important cultural centers in Russia. While in Moscow the high nobility and church officials were the main patrons for the religious arts, in Yaroslavl the wealthy merchants played a leading role. Imposing architecture, large-scale fresco ensembles and extraordinarily festive icons demonstrate the self-confidence of the citizens of Yaroslavl at that time, of which the present icon of the Saviour of Smolensk is an impressive example.

The Saviour of Smolensk-image commemorates the saving of the city of Smolensk in 1514. The first icons of the type were painted during the reign of tsar Ivan the Terrible in the second half of the 16th century.

Once the main gate of the Kremlin, the Spassky Gate (Saviour Gate) was the portal through which the tsars passed before their coronation. A fresco of the Saviour of Smolensk was painted there. Its presence is recorded as early as the middle of the 17th century. It was traditional for those passing through the gate to dismount and remove their hats in respect.