Russian icon | Christ of Smolensk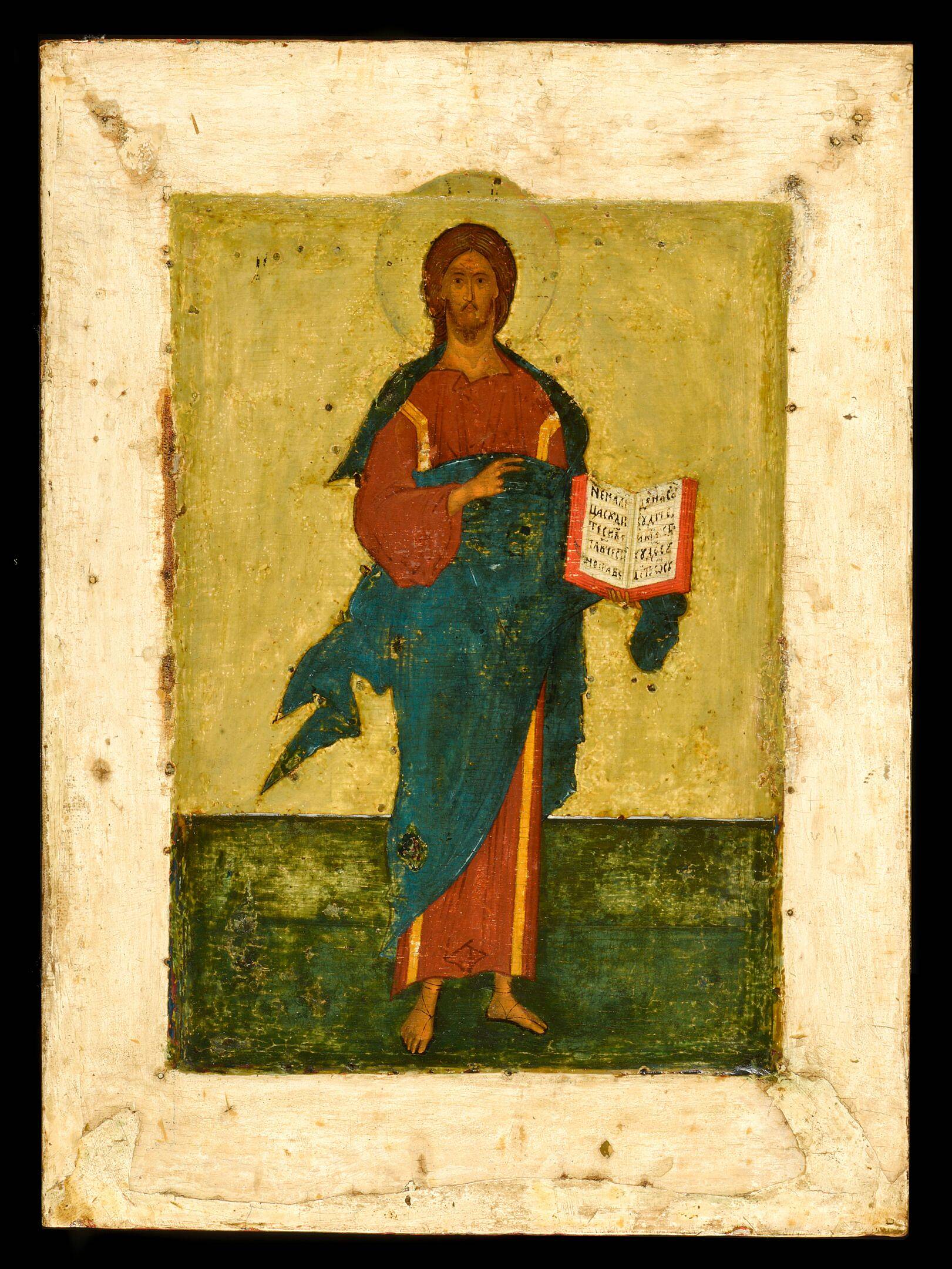 Icon: Christ of Smolensk
T-6
Russia, Moscow, third quarter 16th century
Tempera on wood, 31 x 22.6 cm
On the icon, Christ is depicted against an olive green background as the Pantocrator (Almighty): standing in a frontal position, with his right hand raised in a blessing gesture and his left hand holding an open book of gospels. He wears a long red tunic (chiton), symbol of his divine nature, and a blue mantle (himation), symbolising his human nature. The subtle palette used in the icon is dominated by warm colours, consisting of ochre, deep red, blue and green. The face is finely painted. Christ is looking at the viewer but at the same time seems to be deep in thought. The combination of the elongated body of Christ and the relatively small head is meant to evoke the divine.
Although the icon is of small size, the elongated figure produces a monumental effect and at the same time, in combination with the fluttering mantle, endows the image with elegance. The overall style of painting suggests a dating in the third quarter of the 16th century and a provenance from an excellent Moscow workshop.
The most ancient icons of the type of the Saviour of Smolensk appeared during the reign of tsar Ivan the Terrible in the second half of the 16th century. The present icon dates from this earliest period. Usually by either side of Christ, kneeling in prayer at his feet, are St. Sergius of Radonezh and St Varlaam of Khutyn, with in the upper part of the icon two angels showing the instruments of passion. The present icon however shows the very rare variant where the focus solely is on the standing figure of Christ. Thus the icon painter has created a highly concentrated image with a strong expressive power.