Russian icon | Birth of St John the Forerunner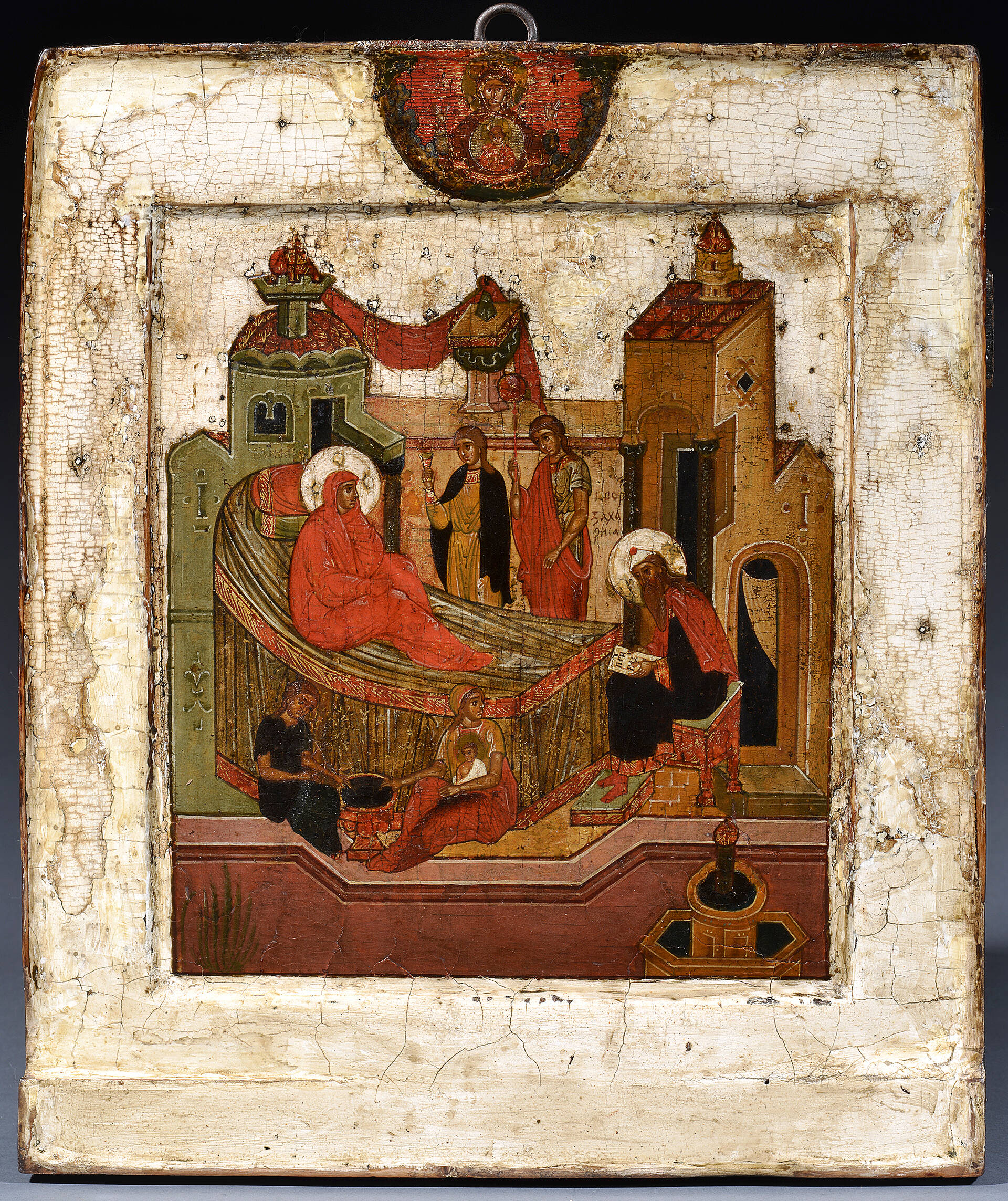 Icon: Birth of St John the Forerunner
E-6
Russia, Moscow, mid-16th century
Tempera on panel, 32.2 x 27.8 cm


Provenance:
Private Collection, Italy
Morsink Icon Gallery, Amsterdam

ALR Ref. No.: S00158679


Bibliography:
Unpublished
On the icon St John has just been born and a homely scene unfolds against an architectural background. In the centre, his mother Elisabeth lies in childbed, dressed in red. Behind the bed, two servants are depicted, one bearing a chalice and the other one holding a ripidion (ceremonial fan). At the foot of the bed, Zacharias sits on a stool, his feet places on a footrest. He is writing down the name of his son on a scroll. His white hood with the red pompom is a reminder of his function as high priest. In the foreground to the left, St John is receiving his first bath. The small, newborn John sits on the lap of the midwife who is depicted with bare arms, just like the female servant at the other side of the water basin. To the lower right, a fountain is depicted, which refers to the life bringing water, the fountain of life. On the upper border of the icon, the Mother of God Znamenie is represented within a semicircular segment of heaven.

The evangelist St Luke recounts how the high priest Zacharias, at an advanced age, received a visit from the archangel Gabriel in the temple. Gabriel told Zacharias that he would have a son whom he must call John. Zacharias responded that he could not imagine such a thing since he was old and his wife infertile. As punishment for his disbelief Zacharias was struck dumb until, at the birth of his son John nine months later, he wrote down the child's name.

The composition of the Birth of St John is modelled on the icon of the Birth of the Virgin. The roots of this style of depicting a birth lie in antiquity. In Greek and Roman art a birth is represented by a female servant who bathes the baby for the first time immediately after its birth. The mother looks on from a chair. The theme is found on children's sarcophagi and is also often part of depictions of the lives of heroes and demigods. Clearly, the Christians adopted this widespread iconography, and the earliest depictions of the Birth of the Virgin and of St John are based on this ancient tradition.