Russian icon | Archangel Michael Voyevoda (with gilt basma)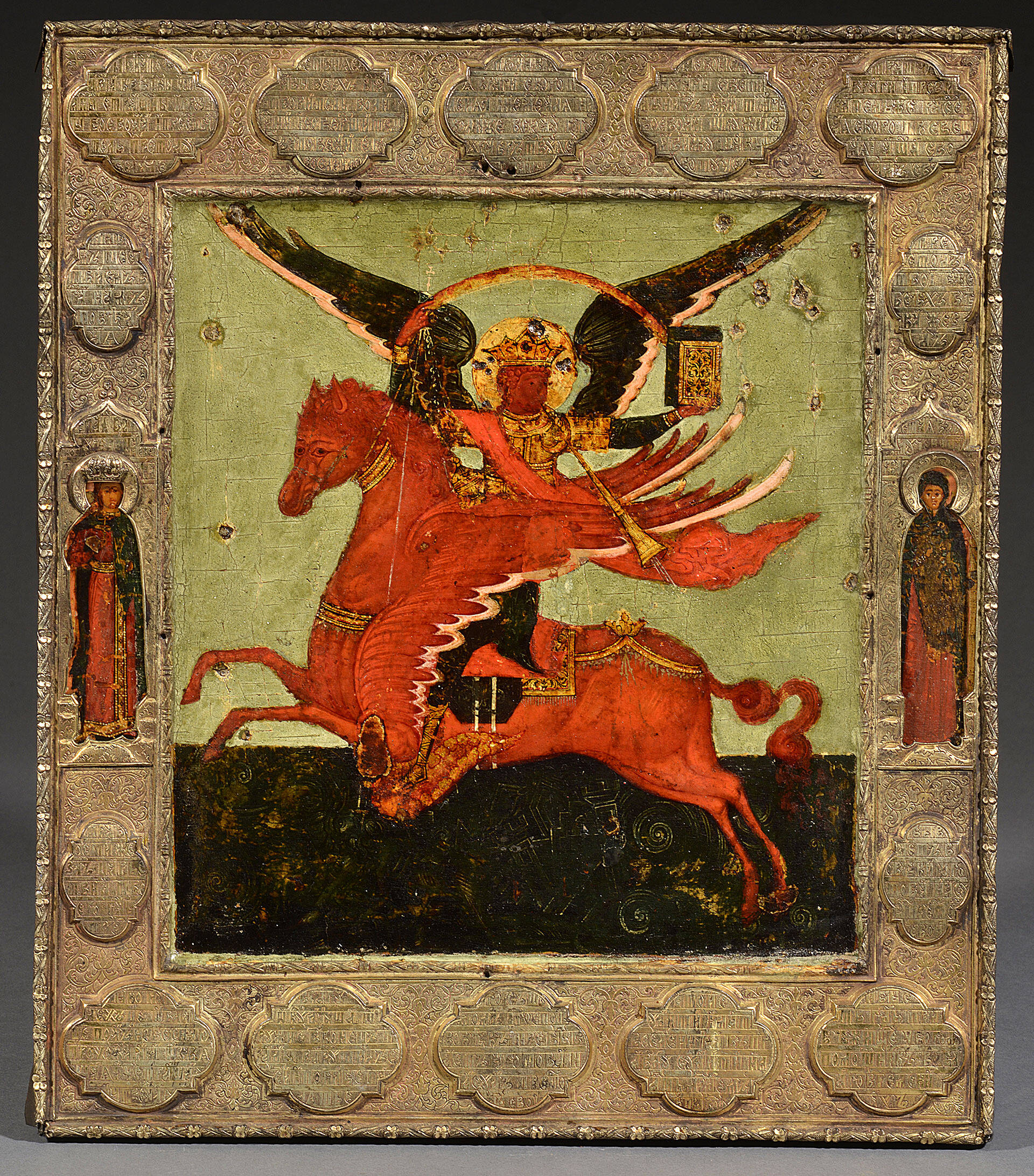 Icon: Archangel Michael Voyevoda (with gilt basma)
B-9
Russia, Moscow, first half 17th century
Tempera on wood, 31.7 x 27.5 cm


Provenance:
Private collection, Europe
Morsink Icon Gallery, Amsterdam

ALR Ref. No.: S00153431


Bibliography:
Unpublished
Inquire for price
Against a green background, the icon depicts the Archangel Michael with wings outspread, seated on a fiercely galloping, winged red horse with rich trappings. This horse recalls the mythical Pegasus, whose hoofprint on Mount Helicon formed the spring of inspiration and creativity.
Michael is blowing the Last Trump, to announce the Day of Judgement. He is clad in costly armour and a red mantle that swirls vigorously in horse and rider's wake. His feet rest on clouds. Above his crown is a golden rainbow whose span extends from one hand to the other. In his left hand Michael holds the Book of Gospels and in his right hand he holds the spear with which he impales the infernal Antichrist, who lies in the darkness beneath his horse. The sinful city of Babylon is sinking in the darkness too.
On the left and right border the saints Paraskeve and Barbara are depicted. The gilt basma is decorated with cartouches showing prayers engraved in church-slavonic.
In Russia there has been a long tradition of venerating the archangel Michael as protector of the army, leader of the celestial battalions and defender of Christianity against the pagans.